The Humantay Lake Tour will take you to one of the most beautiful natural sites around Cusco. Situated in the mountain range of Vilcabamba, is where awaits you a true hidden beauty – the Humantay Lake. The glacial lake's intense emerald waters are hypnotizing and just as astonishing as its remarkable altitude of 4,200 m. or 13,780 ft. above sea level.
Surrounded by an impressive landscape, amongst which one can marvel at the Apu Humantay and Apu Salkantay, the hike is worth all the effort.
If you have one day to spare and the desire to be awed by nature, our Humantay Lake Tour is the perfect opportunity for you to be mesmerized by nature and get elevated by the views (not just in altitude meters).
Timetable
Tour Start: 04.30 am, Pick up from your hotel
End of Tour: 18.30 pm, Drop off at your hotel
| | |
| --- | --- |
| Duration: 1 Day | Altitude: 4,200 m.a.s.l |
| Difficulty: Moderate | Season: All year |

Itinerary
Full Day Tour Itinerary: Cusco – Soraypampa – Humantay Lake – Cusco.
The Humantay Lake Tour begins with the pick-up from your hotel from 4:30 am to 5:00 am.
Don't worry, you can sleep in the car as we drive for 2 hours and 30 minutes to Mollepata, where we will serve you a delicious breakfast to give you enough strength for the hike. Then we will continue the journey for 1 hour and 30 minutes to Soraypampa, arriving at an altitude of 3,900 m. / 12,795 ft.
From Soraypampa we will start hiking the ascend of a good 2 km towards Humantay Lake. Depending on your physical condition, the hike will take approximately 1 to 2 hours, but remember to take it easy as the altitude can be demanding. During your ascend you will be able to relish some of the most astonishing views, including the snow-capped Salkantay mountain.
You will have enough time to take some amazing photos of the dazzling scenery, as the higher you go the more reveals the panorama its captivating beauty. As special things can be sometimes harder to get, the Humantay Lake is hidden up high at an altitude of 4,200 m. / 13,780 ft., behind a stunning topography of rocky mountains and exquisite flora and fauna.
Humantay Lake
Finally, you will arrive at the mesmerizing glacial lake, "La Laguna Humantai", with its incredible turquoise color it paints the perfect contrast to the mighty snow-covered Humantay mountain that towers up so majestically behind it. This incredible scenery is worth the time to explore, so feel free to walk up the sloppy hills and take in this natural wonder from various angles.
After you have indulged yourself with the energy and the beauty of this special place, we will start the descent back towards the community of Soraypampa. From there we will drive you back to Mollepata so that you can enjoy a last delicious Lunch, ending this beautiful and unforgettable experience, with a happy and full belly.
We will arrive in Cusco at approximately 6:30 pm and will drop you off right at your hotel.
Important: The pickup time can vary depending on your hotel's location.
Included
TOUR INCLUDES
Round trip transportation: Cusco – Soraypampa – Cusco (group service).
Breakfast
Lunch
A professional bilingual guide (Spanish and English).
First aid kit
NOT INCLUDED
Entrance to the Salkantay Trail
Horses
Drinks
Walking sticks
Tips, advice.
CONTACT US
info@dreamy.tours
reserve@dreamy.tours
More Information
Altitude:
Humantay Lake's elevation is approximately 4,200 m. or 13,780 ft. above sea level.
Coordinates: South latitude: 13° 24'41.72″ and west longitude: 72° 37'2.43″.
Humantay Lake's size is approximately 618 m. / 2027 ft. in length and 164 m. / 538 ft. in width.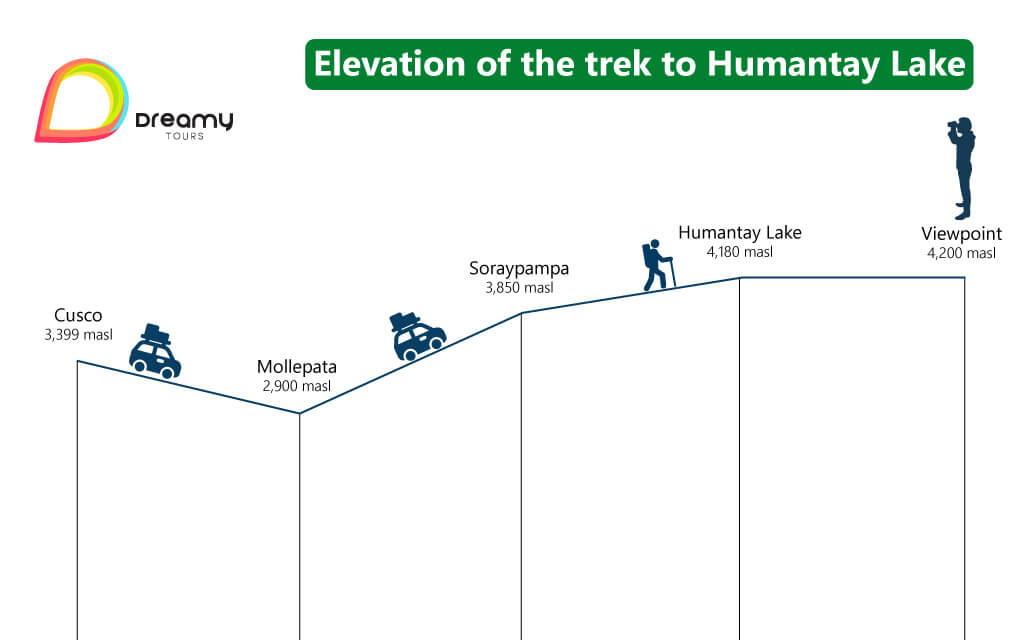 Where is Humantay Lake located:
Humantay Lake Peru is located in a natural valley sheltered from the snow, in the region of Cusco, more specifically in the province of Anta.
It is located in the northwest of the city of Cusco in Soraypampa belonging to the district of Mollepata, province of Anta.
How far is Humantay Lake from Cusco:
Humantay Lake is approximately 122 km away from Cusco.
How is the climate at Humantay Lake Peru:
The climate is generally rather mild during the days of the dry season (April to November), but it gets cold at night and in the early morning hours. In the rainy season (December to March) it gets rainy and cloudy, so prepare yourself for a wet climate.
The average temperature during the day around Lake Humantay normally ranges between 4°C and 17°C.
When is the best time to visit Humantay Lake Peru:
The best time to visit and hike the Laguna Humantay Peru is in the dry season, i.e. between May and October. May is the most recommended month, as everything is still green after the rains.
What's the level of difficulty of the Humantay Lake Trek:
The difficulty of the hike to Humantay Lake is moderate.
First, we climb up a wide steep slope, then it winds along a stony hillside until finally, it descends to a small ravine where you will find the turquoise waters of "La Laguna de Humantay". From there you are free to choose whether you want to walk the steep slopes around the Lake to catch some great views.
The stones on the path can be at times a little tricky, but generally, the ways are maintained in good condition. What can make the hike a little difficult is the cold and the altitude. Beware to take it easy and take the time you need to do the hike comfortably. The length of the hike will depend on your individual physical condition, weather conditions, and whether you acclimatized well enough beforehand, generally speaking, the hike can take anything from 40 minutes to 2 hours.
Recommendations for traveling to Humantay Lake Peru:
We strongly recommend acclimatizing to the high altitudes before you do the hike of the Humantay Lake Cusco. Generally, we recommend at least two days of acclimatizing in the city of Cusco beforehand. In order to avoid any symptoms of altitude sickness, such as headaches, dizziness, nausea, fatigue, and/or shortened breath, we recommend eating a healthy diet, don't drink excesses of alcohol, and avoiding smoking the days before your trek.
Wear comfortable clothing suitable for hiking: trekking shoes (waterproof), long trousers, a warm jacket, a sunhat/cap and warm hat, and depending on the season a rain cover.
Take sunscreen, insect repellent, and if needed trekking poles.
Take some extra cash (in soles) in case you want to make an additional purchase, buy some extra snacks, or tip the guides.
Try to visit Lake Humantay in the mornings to get the best views.
Price
HOW MUCH DOES IT COST?
We have price alternatives that accommodate all budgets, prices per person, expressed in US Dollars.
Make your quotes and reservations by email info@dreamy.tours, you can also communicate with one of our sales executives at the telephones detailed below, we will be happy to assist you.
Phone – WhatsApp: +51 969 787 221
Phone – WhatsApp: +51 986 994 218
HOW TO BOOK THE SOUTH VALLEY CUSCO TOUR?
To start the reservation process, please send us the following information:
Name and surname:
Passport number:
Nationality:
Date of Birth:
Phone:
Very important – We need the address and information about the hotel that you are staying at, in the city of Cusco, to be able to pick you up at the time when the tour starts
To confirm reservations it is required to pay 50% in advance and the other 50% can be paid upon arrival at your destination.
PAYMENT METHODS
IZIPAY
PAYPAL
WESTER UNION
MONEYGRAM
TRANSFER TO OUR BANK ACCOUNT PERU
GENERAL CONDITIONS
All rates for our Peru Packages are expressed in US dollars (subject to currency exchange rates) and are priced per person
The rates for Peruvians only include VAT
All our rates are subject to availability and circumstances
Children under 2 years and 11 months are considered INF (babies) and are not permitted on this tour
Children from 3 to 10 years and 11 months are considered DCC (child) and thus eligible for special rates and obliged to share the room with their parents
Children over 11 years old are considered adults
Minors must travel with an identity document
Rates do not apply to holidays, Easter, long weekends, national holidays, Christmas, or New Year
Map