Culminating in a picturesque turquoise lake at the base of a glacier, the trip from Soraypampa in Peru to Humantay lake in Cusco is a moderate to high difficulty day tour that is usually organized with groups of tourists based in Cusco.
After approximately a million relatively flat terrain, the road starts with a steep and mountainous rise. You will pass several campsites and a restaurant before a final set of toilets (which can be accessed for a small fee) and a display to buy snacks. Rotate it around this cross and go to a place around the mountain. The truck is not well signaled, but the route is quite obvious.
The portions are wide; The excursionists have forged several adjacent routes, some of which are shared by horsemen who are available to alkylate. Los caballos solo up to mitad, so everyone will have to walk the pie. The terrain is relatively easy, but even experienced hikers will find it difficult to acclimatize properly.
At the top, the majority of groups take time to absorb the views. From here, you can walk around the sides of the lake to reach more than 14,000 pieces. Due to the elevation, it is important to bring water and sunscreen. Insects are not a big problem, but be careful with animal stables, especially when walking.
Which is the altitude of Soraypampa?
The altitude of Soraypampa is 3,900 meters above sea level,
Campsite of Soraypampa in Peru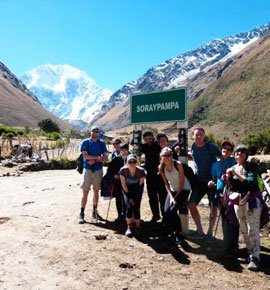 It is, politically, in the district of Mollepata, province of Anta, the site of influence of the Regional Conservation Area Choquequirao, 128 km from the city of Cuzco and 18 km from the pueblo de Mollepata. The temperature fluctuates to -6ºC during the cold season and up to 22ºC during the warm season. As it is near the Salkantay Mountain, the mountains are very common.
Tourist activity in Soraypampa Peru
Soraypampa as part of the Mollepata carriage – Abra Salkantay – Santa Teresa has become a major tourist area. The current road that leads to this place has converted to Soraypampa in various aspects, starting from Machu Picchu, starting from this area, however, it is also possible to see groups of tourists starting on the way from Mollepata to walking approximately 7 hours before leaving Soraypampa.
Within the tourist programs offered by Soraypampa we have the Humantay and Salkantay lagoons that are formed by melting the glaciers. The glaciers are also full of natural resources that combine with tourist attractions.
In other places, from Abra Salkantay, there is evidence of the Inca path, walls and stairways of great interest for visitors who love archeological tourism, eco and adventure. The Salkantay Trek 5 days / 4 nights is a natural resource that boosts mystical tourism.
How to get from Cusco to Soraypampa?
From Cusco to Soraypampa there is a journey for three hours in a car. Depending on your fitness level and acclimatization, the ride lasts from one to one hour and the average, without including stops. The majority of people hacked with groups of tourists in Cusco.
The tours generally leave in the morning and the late morning and afternoon, so the trip is a full day commitment. If you can access the bathrooms at the sendero, in a restaurant of approximately 0.5 million and for a fee, before the main ascent.
To be able to reach this natural wonder you will have to take a car from Cusco to Mollepata, at the Arcopata bus terminal (S / 15.00) for a time of 1 hour and 40 min.
Posted to Mollepata you will have to look for a place where you can leave (S / 5.00). After you have to hire a taxi driver to take you to Soraypampa, the taxi will charge you approximately S / 70.00 and you happen to have more people who want to pay less. Luego will have to pay admission to Lake Humantay (S / 10.00).
Any way you take from Cusco to Soraypampa you will have to walk for 1 hour and 30 minutes as a minimum to reach the Humantay Lagoon (if you don't want to walk to the horse), the first 30 minutes of walking and the rest of the road bear.
You had to consider that you probably don't move to return because I recommend waking up with the taxi driver to wait for you to recover, then your skills to negotiate prices come in. If you don't find any movement, there are hostels ranging from 20 to 40 soles, there are also camping areas (you can carp) from where you can fall. If you are camping, make sure you are sheltered very well and that in the night there is a lot of cold.
How to get from Cusco to Soraypampa with Travel Agency?
In the morning from 4:00 to 4:30 a.m., we will go back to your hotel in Cusco and start traveling by tourist transport, we will head to the north of the city of Cusco.
On the way, we will pass through different settlements and small houses around Limatambo, starting from this point we will ascend to Mollepata's pueblo. Place where we have our best, luego we will continue our best travel Soraypampa.
Arriving at Soraypampa, we will start our Humantay Lake Tour. The walk lasts 1 hour and 30 minutes approx., Going to the Humantay Lagoon we will be able to appreciate the beautiful landscape and the imposing view of the Humantay and Salkantay Mountains, after a short rest and taking the photos we will return by the same route Sortapampa,
we will take our move and we will return to Mollepata, in this place we will enjoy a delicious lunch, after which we will return to the city of Cusco leaving at 6:00 pm approx.