In the southernmost area of ​​the Peruvian Amazon and near the department of Cusco is Puerto Maldonado, a small city surrounded by countless tourist destinations to enjoy a vacation in complete connection with nature.
Can you imagine walking through the national parks and reserves of this impressive area of ​​Peru? We guide you! Here we tell you everything you need to know to make the most of your days in Puerto Maldonado.
The biodiversity in this area is one of the highest per square meter on earth: two thousand species of vascular plants, more than one hundred different types of mammals, thousands of species of birds and butterflies, including a large number of endemic species. and insects, fish and amphibians.
Added to this, it is possible to appreciate one of the forests in the best state of conservation on the planet, which preserves immense trees and a beautiful flora as they existed thousands of years ago.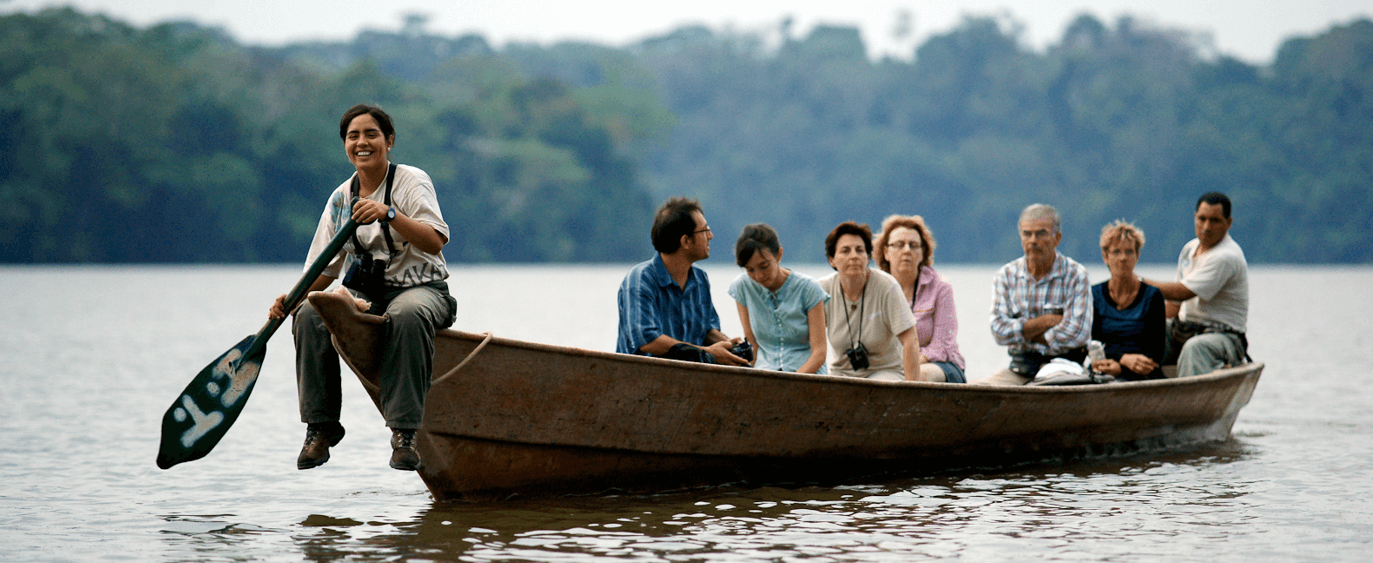 The growing interest in the area by scientists and tourists has allowed the development of various proposals for hostels that, in addition to offering comfort to their guests, ensure the conservation of the natural surroundings.
Location:
The city of Puerto Maldonado is located in the province of Tambopata, which is located in the department of Madre de Dios. This city is the capital of the department in which it is inserted and was created as the capital of such on December 26, 1912.
Puerto Maldonado Elevation:
The elevation of Puerto Maldonado is 256 meters / 839 feet above sea level.
Weather in Puerto Maldonado
Puerto Maldonado is located 203 meters above sea level. The weather in Puerto Maldonado is classified as tropical. There are significant rains in most months of the year. The short dry season has little effect on the general climate. The weather in Puerto Maldonado is classified as Am by the Köppen-Geiger system. The average annual temperature is 25.4 ° C in Puerto Maldonado. In a year, the precipitation is 2221 mm.
When is the best time to visit Puerto Maldonado?
Puerto Maldonado and, in general, the Madre de Dios region, is divided into two seasons: dry and rainy. Each of them has its benefits and drawbacks: while in the dry season you can do more activities related to trekking, during this time there is less bird watching. In the rainy season, however, you can find more birds, reptiles and amphibians. Therefore, the best time to visit Puerto Maldonado depends on your tastes and what you are looking for on this trip.
Things to do in Puerto Maldonado
There are a lot of things to do in Puerto Maldonado. Here we mention the best 8 places to visit in Puerto Maldonado.
Tourist Viewpoint of Biodiversity
It has the shape of a chestnut tree, a species native to the Madre de Dios region. From the top of this viewpoint you can see a beautiful landscape: the infinite green of nature and the entire city of Puerto Maldonado.
This viewpoint has a height of 47 meters and on each of its fifteen floors there are photographic exhibitions of the biodiversity and history of Madre de Dios.
This tower is perfect to have a panoramic view of Puerto Maldonado and, above all, to delight yourself with an incredible sunset.
Tropifauna Serpentarium
Machaco, chicotillo, anaconda, emerald boa and shushupe snakes are bred here. There are also amphibians such as frogs and toads. Tropifauna also fulfills the functions of a rescue center, as it houses reptiles and amphibians found in the vicinity of nearby towns.
It has an area of ​​500 m2 and the serpentarium is located 2 km from the city of Puerto Maldonado – El Triunfo sector.
Butterfly House Butterfly Garden
Just 3 kilometers south of Puerto Maldonado is the first hatchery in Peru where live butterflies are exhibited. In 600 square meters, you can explore and know the habitat of impressive Amazonian butterflies, which live surrounded by beautiful flowers and native, ornamental and medicinal plants.
Inside the butterfly farm you can see hundreds of Amazonian butterflies of different species, flying and feeding on flowers and fruits. The Butterfly House Butterfly Garden is a 20 m long by 7 m wide garden that offers a unique and educational experience.
Tambopata Ecotourism Corridor
It is located in the buffer zone of the Tambopata National Reserve.
The perfect place for those who are thinking of a family trip. Four native communities of Madre de Dios came together to create this corridor that offers endless activities: kayaking, jungle beaches, walks through native forests, paintball, swimming pool… there is something for everyone!
Amazon Shelter
As in many corners of the Peruvian jungle, in Puerto Maldonado you will find centers that are responsible for rescuing animals and rehabilitating them so that they can return to their natural habitat. An example is the Amazon Shelter, a place where you will find from monkeys to crocodiles, toucans or sajinos that coexist in total harmony with their environment.
Tambopata National Reserve
We begin the tour of the most important natural areas that surround Puerto Maldonado with the Tambopata National Reserve, the closest to the city. The fauna and flora of this place are fascinating: up to 632 species of birds, 1200 of butterflies, 103 of amphibians, 180 of fish, 169 of mammals and 103 of reptiles have been found.
In addition, its spectacular suspension bridges and large bodies of water, such as Lake Sandoval, Sachavacayoc and Valencia, attract attention. But to truly be fascinated with the fauna of this national reserve, visit the Collpa de Guacamayos Colorados, where hundreds of macaws, parakeets and parrots gather to feed on its clay walls 50 meters high by 500 long.
Tahuamanu Province
On the border with Brazil is the province of Tahuamanu, another place to enjoy different landscapes related to nature. After taking a walk through the city, we recommend visiting the surrounding towns, where you can ride a horse, go by boat through the Colibrí lagoon and even visit the native community of Belgium and its shiringa forests.
Bahuaja-Sonene National Park
Can you imagine what it is like to walk through a humid tropical savanna? Either way, it seems like a good plan, right? Well, in Peru you can do it in the Bahuaja-Sonene National Park, a place where animals as fascinating as the giant anteater, the black lizard or the harpy eagle live.
How to get from Cusco to Puerto Maldonado?
Whether you are traveling from Lima or from Cusco to Puerto Maldonado, the fastest way to get is by plane (in 90 and 30 minutes, respectively). But if you prefer to travel from Cusco to Puerto Maldonado by bus, you can also do it. The travel from Cusco to Puerto Maldonado takes approximately 10 hours through the interoceanic highway that connects Peru and Brazil. If you want to know more details, we invite you to read our article on how to get to the jungle from Cusco.
Tours in Perú