Hello bloggers, today we are going to talk, write about the Huacachina Oasis in Peru, the only one in the Americas. Find out more about it by reading our blog in Portuguese.
About Oasis + Huacachina Village: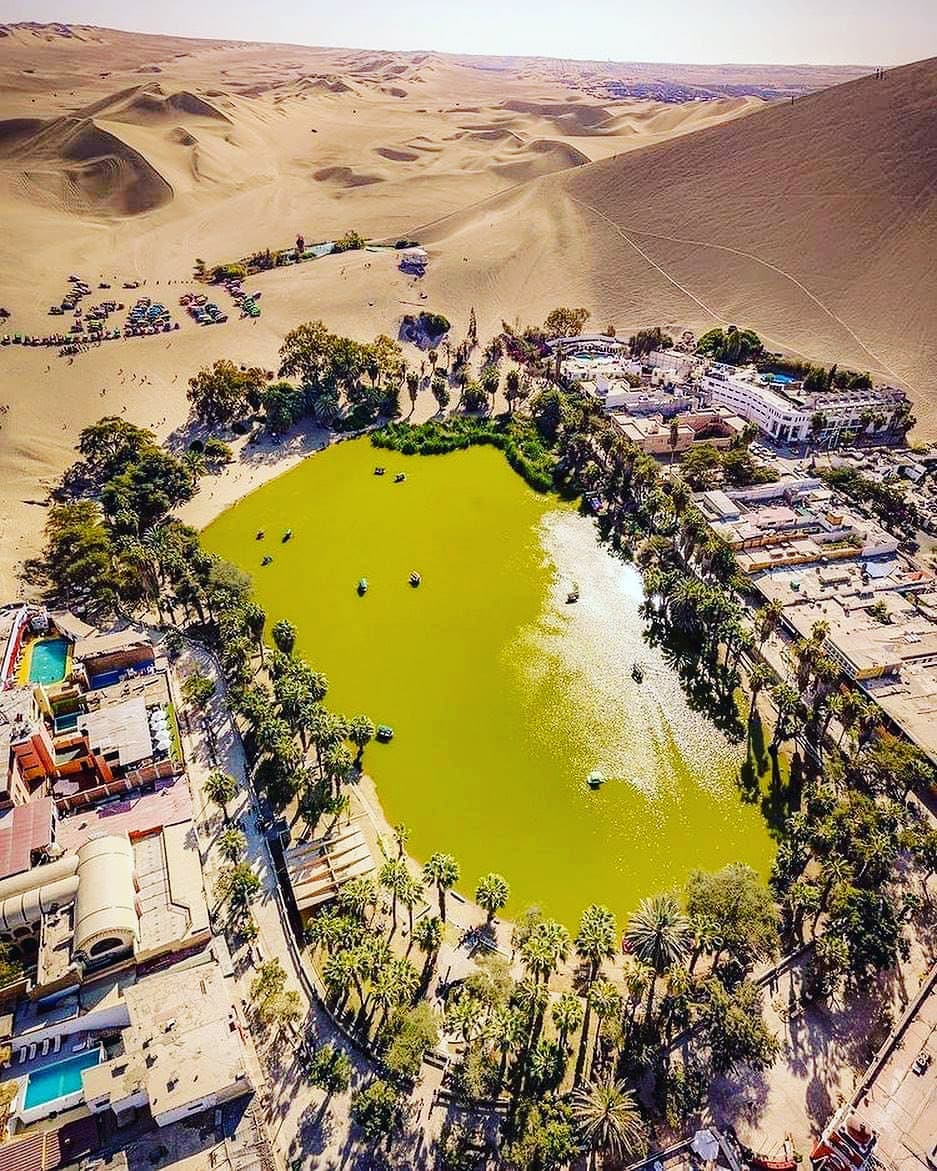 A mongst the rolling dunes of Peru are the small village of Huacachina, which lives around an oasis with huge palm trees.
In the 1960s, bathing in these waters was thought to have healing powers, and it became a very popular destination among high-class Peruvians, with houses and hotels springing up around it.
According to legend, a hunter captured a beautiful Inca princess walking in the dunes near present-day Huacachina. As she walked and admired herself in the mirror she wore, her eyes met his alluring gaze, and surprised, the princess began to run away leaving the mirror.
It shattered into pieces and the crystal became a small pool in the desert, consuming the princess and turning her into a mermaid.
Known as the "Oasis of America", it is one of the few true desert oases in the Americas, a lush island in a sea of sand, its heated pool ripples in shades of blue and green.
Surrounded by palm trees, Peru's green waterhole has served as a tourist attraction for over 70 years.
Location

With plenty of restaurants and hotels, the oasis was formerly a haven for the upper class escaping through the desert of neighbouring Ica.
Lately, the small town, with a population of just 115, has become a hotspot for adventurers who enjoy sandboarding and sand buggies.
Huacachina Resume:
*Located 4 hours south of Lima, near the city of Ica;
*Huacachina is the only natural desert oasis in the Americas,
*Boasting the largest sand dunes in South America;
*The best dune buggy and sandboard tours in South America.
WHERE AND WHAT IS HUACACHINA?
Huacachina is a desert oasis in southern Peru, located approximately 5 hours south of Lima. It is located just 10 minutes from the centre of Ica, a small coastal town. It is a small lagoon surrounded by palm trees and gigantic dunes, similar to those seen in the African Sahara desert.
In the 1940s, the oasis became a popular beauty spa for Lima's Peruvian upper class: the waters were thought to have healing powers, and many Limenos bathed in the waters to soothe and heal their bodies and their skin. Several luxury hotels were created along the lagoon, as well as a tour of the waters and streets.
However, sometime in the 1950s, it stopped being visited and for decades it was abandoned and considered a place without any tourist attractions.
Despite this, sometime in the 1990s, clever entrepreneurs began offering holidaymakers the option of exploring the giant sand dunes in a four-wheel-drive buggy. From then on travellers quickly embraced this different and enjoyable experience in a country that was already famous for its mountains, jungles and ancient ruins.
The dunes in the desert around Huacachina are beautiful, sensual and very photogenic.
Eventually, Peruvian youth discovered that the gigantic dunes could provide hours of thrills and adrenaline by sandboarding on a snowboard, used for sand instead of snow.
Today, Huacachina serves as a popular tourist destination for young and old, of all classes, foreigners and Peruvians, men and women, who come to experience the beauties of the desert on a buggy ride and to sandboard on the dunes.

WHAT TO DO IN AND AROUND HUACACHINA?
The most famous tour in the region is the BUGGY and SANDBOARDING TOUR, and this popular tour involves driving through the gigantic dunes in a buggy that looks like something out of a film, then trying your hand at sandboarding.
As sandboarding is a very difficult sport, most visitors practise it by lying on the sandboard face down like a sled, so you can learn quickly, it won't be difficult, and you'll have a lot of fun.
A few minutes from the oasis, there are a number of wineries and pisco producers that serve as a base for the WINE AND PISCO TOUR.
This is a famous tour where visitors can learn about how Peruvians produce sweet red wine for which this region is famous.
You will be able to taste PISCO, a powerful grape distillate, considered the national drink of Peru. These alcoholic beverages have been made since the Spanish conquistadors brought grapes to the "New World" and forced the locals to grow them.
There is also a small but attractive ARCHAEOLOGY MUSEUM with many mummies, beautiful pottery objects made by ancient tribes of the coast and valuable textiles.

From the oasis, many travellers decide to take the BALLESTAS ISLANDS TOUR, and it is a half-day excursion that will take you to the marine life reserve near the city of Paracas. This boat trip includes the opportunity to see a wide variety of mammals and birds, including Humboldt penguins, sea lions, sea lions and large flocks of seabirds.
It is sometimes called the "poor man's Galapagos" because it is an economical route that offers rich viewing of many wild animals. Despite this, it cannot be compared to the diversity and uniqueness of the Galapagos Islands.
Just two hours south of Huacachina is the town of Nazca, a famous desert where ancient tribes formed gigantic figures in the desert soil. These LINES OF NAZCA have become world-famous as a source of mystery and curiosity.
Contact Us:
For more information, please contact us DREAMY TOURS, we will be happy to answer all your questions about Peru, Bolivia and Chile.
We are a Travel Agency specialized in tours, packages, if you need some information, please write to us.
We offer tours, excursions – Peru – Bolivia – Chile: