In Cusco, every corner tells a story and each story is captivating, mystical and welcoming. Imagine walking down streets with names like "Coffin" [Coffin], Seven Snakes [Seven Serpents] and "Harpies" [Harpies]. In these streets time seems to have stopped, each corner offers a piece of history, and the stones are still alive because they have survived intact.
Cusco in Peru witnessed the arrival of the Spaniards and, however, to this day it preserves an ancient magic that captivates the thousands of visitors who are part of its living history each year.
Cusco in Peru, recognized as the historical capital of Peru, recognized as the navel of the Earth.
What is the altitude of Cusco?
The altitude of Cusco is at 11,151 feet (3,399 m.a.s.l.).
Considering the altitude of Cusco it is normal for tourists to feel the symptoms of altitude sickness such as: fatigue, shortness of breath and even nausea.
How is the weather of Cusco?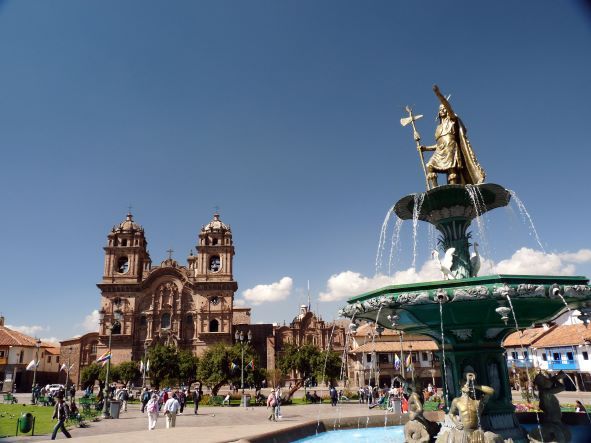 The hot air masses of the south eastern jungle of Peru mix with the cold and dry air of the Andes Mountains, in the Sacred Valley of the Incas. When they come together, they cause very peculiar almost instantaneous weather of Cusco, so much so that if you are lucky you will be able to stand under a rainbow, right in the middle of a heavy rain on one side and a radiant sun on the other, and if you don't mind getting wet a little, this can be truly incredible.
When to go to Cusco?
Well, it is one of the questions that we answer most frequently, and we will tell you the same thing that we tell people who travel with us, and that we learned from people who traveled with us: Only you can choose when is the best time to travel to Cusco in Peru. The climate of Cusco is marked by 2 seasons; the rainy season and the dry season. Below we detail them, so you will see the pros and cons of each of them.
How to get from Cusco to Machu Picchu
Here we mention 4 ways to get from Cusco to Machu Picchu:
Route: Inca Trail, Salkantay, Jungle Trek, among others
The natural environment of one of the Seven Wonders of the Modern World is what makes it really special. Lush jungle, rivers and also gigantic stony hills from which glaciers hang down. Trekking is the best option to live, in addition to visiting Machu Picchu, the strength of the natural environment. After doing so, it will not surprise you that the Incas worshiped nature as a divinity.
Route: Cusco + train or bus
If you don't want complications, you don't have much time or money, but you want to take a guided tour of the citadel. It departs from Cusco in a tourist bus that will make stops along the Sacred Valley, one of the most valued areas of the Inca Empire, due to its fertility.
From there a picturesque train leaves for Aguas Calientes–MachuPicchu Pueblo, the last town to reach Machu Picchu. The next day in the morning, a bus will drop you off at the door of the archaeological complex.
Now, if you want to lower the cost of your visit to the maximum, we recommend hiring a tour.
Route: Poroy (Cusco) – Ollantaytambo – Machu Picchu
You should also know that you can get to Machu Picchu expressly, in a single day. You take the train from Poroy (Cusco) or Ollantaytambo, to Aguas Calientes-Machupicchu village. Here you board a bus that directly goes up to Machu Picchu. It should be taken into account that there are 8 hours of transport (4 roundtrip), so this option is only advisable if time is really short.
Route: Cusco – Santa María – Santa Teresa – Hydroelectric – Aguas Calientes
Our Agency offer the tou by, the INCA JUNGLE TRAIL, arrived in Hidroeléctrica. There you must register and walk 11 kilometers (1.30 hours) along the train tracks to Aguas Calientes-MachuPicchu village. From there you can walk up to Machu Picchu, or take the bus.
Best Tours in Cusco