Our Cusco City Tour is the perfect opportunity to explore amazing Inca ruins such as the famous UNESCO World Heritage of Saqsayhuaman, learn about the historical and cultural past of the ancient city of Cusco, and enjoy some of the best views of the surrounding valley.
Travel back in time while walking through the colonial streets and the relics of ancient Inca ruins. Learn about the Spanish imposition by viewing the traces in the architectural structures firsthand. Get mesmerized by this ancient capital of the Incas, which up to this day is buzzing full of culture, art, and gorgeous places.
We recommend this tour especially during your first days in Cusco, as it will give you the perfect combination of background knowledge and easy walking to acclimate to the high altitudes while enjoying some exquisite Inca ruins. This experience is designed for all ages and can be done individually to meet new people, in groups, with the family, or as a couple to have the best start of your adventure in Cusco.
| | | |
| --- | --- | --- |
| Duration: 4 Hours | Altitude: 3399 m / 11151.6 ft | Accommodation: X |
| Difficulty: Easy | Season: All year | Covid-19 Biosafety Protocols |

Itinerary
Cusco Cathedral – Qoricancha – Sacsayhuaman – Q'enqo – Puca Pucara – Tambomachay
We will start our Cusco city tour by picking you up from 1:15 PM to 1:30 PM from your respective Hotel. Then we will go to our first destination:
Cathedral of Cusco
Situated right on the main square, we will first enter the Cathedral of Cusco, one of the most remarkable colonial monuments of Peru. During your guided tour, your guide will be at your disposal to answer all your questions and will explain to you the intricate historical past of this religious building.
Build in the year 1560, it was constructed out of the massive stones that the Spanish took from the Incan constructions. They erected this Cathedral right on top of the original Inca Temple called "Sunturwasi" to demonstrate their superiority. Many artists participated in the construction of this Cathedral, which is why you can nowadays exhibit an array of wonderful wood carvings, gilded high reliefs, and more than 300 paintings of the Cusqueñan School.
Let yourself be enthralled by a vast sample of colonial art, a wonderful mix of renaissance, baroque and gothic architectonical styles, and learn about the complex historical past of the city of Cusco before we continue our journey.
Temple of the Sun – Qorikancha
Our second stop is the Temple of the Sun or originally called "Qorikancha" which translates to something like the Golden Temple. Our guide will explain to you all the details of this fantastic building and how it was the most important temple during the Inca Empire, that was covered in solid gold plates and served to worship primarily the sun or "Inti" and had various chambers to venerate other deities such as Pachamama (Mother Earth), Illapa (lightning), Kuychi (rainbow), Chaska (Venus and the Stars), Quilla (Moon).
Nowadays, this temple is surely one of the most extravagant fusions of the Spanish imposition built right on top of the massive stone-made Inca foundations that you can still observe. Today, it is still used to celebrate a part of the Inti Raymi or also known as the solstice festival. Take your time to marvel at this astonishing construction with its incredible history, take some photos, learn and let's continue our city tour.
Saqsayhuaman
Our third stop will lead us uphill toward the famous and enigmatic archeological site of Saqsayhuaman. With its three overlapping platforms that are each 390 m / 1279.5 ft long, it constitutes one of the most remarkable UNESCO World Heritages made out of massive stones, some measuring up to 9 m / 29.5 ft high and weighing around 120 tons. This mind-blowing Inca construction demonstrates the incredible precision with which the Incas carved these giant stones and interposed them with each other.
Our guide will go into detail about the significance of this place and explain to you that it once was the head of the puma, which was the original outline of the city of Cusco, and thus served as the religious, administrative, and political center of the Incas. Nowadays, the Inti Raymi, or the Solstice Festival is still celebrated here on June 24. After a fascinating visit to this incredible place, we will continue our journey.
Qenqo
Our fourth stop is located only 1km away from Sacsayhuaman and is called Qenqo. It is said that it was the astronomical and ceremonial center of the Incas, dedicated to Pachamama (Mother Earth). Here the Incas mummified their most important people, made rituals where they placed their dead onto the stone platforms, and had a big monolithic stone carving with images of frogs and apes. However, only half of the construction is still visible nowadays.
In any case, you will still be able to admire the captivating stonework of the Incas, forming a kind of amphitheater. After the explanation from our guide, you will have enough time to walk through the small stone passages, take some photos and explore this fascinating place.
Puca Pucara
For our fifth stop, we will drive for about 10 minutes to the archeological site called Puca Pucara. Translates this site means something like the "Red Fortress" thanks to the amount of iron present in its stones. Due to its strategic location right on top of a hill, it is speculated that it served as a military point, controlling the access to the city of Cusco. You will quickly realize that you are able to view all of the surrounding mountains. While in the past this was good for vigilance, nowadays, it lends itself to take some amazing panoramic photos. After a short explanation from our guide, we will drive only 100 meters further to the next stop.
Tambomachay
Tambomachay is the last stop on our Cusco City Tour. Our guide will lead you through the archeological complex, explaining to you in more detail how this was a center for worshipping the water. You will be able to marvel at the finely carved rocks, that form a thoughtful system of canals and aquifers that were fed by natural springs right from the melted water of the snow-capped mountains nearby.
Take your time to enjoy this last moment of the tour, make some lovely photos to take home as a memory, and appreciate this beautiful quiet place before we head back to Cusco.
RECOMMENDATIONS
After the tour, you can stroll around the historical center of Cusco. Visit the main square or "Plaza de Armas" and its surrounding streets enclosed by a myriad of colonial buildings. Discover the many Cusqueñian artisans in the shops. Find a restaurant that suits your taste or explore the rich Peruvian Cuisine. Relax on the benches of the Plaza Regocijo, with some luck you might even hear some Latin music playing in the background.
Do you like busy nightlife? Go check out the street Procuradores, it's right next to the main square. Chiefly packed with bars and discos it offers you everything, from live music to loud-sounding speakers, everyone can find something here that suits their taste.
Included
TOUR INCLUDES
Transportation from the hotel to all the tourist places
Professional bilingual guide (Spanish and English; other languages only if previously requested)
Entry Tickets (BTP, Cathedral, and Qorikancha)
TOUR DOES NOT INCLUDE
National or international plane tickets
Services not detailed in the program
Contact Us
info@dreamy.tours
reserve@dreamy.tours
More Information
What you should know about the South Valley of Cusco
It is made up of important archaeological sites such as Tipón and Piquillacta. Likewise, the visitor will be able to enjoy the beautiful landscapes and the exquisite local gastronomy. There is also a colonial church known as the 'Sistine Chapel of America' or known as the San Pedro Church, in Andahuaylillas, where you can see paintings with gold leaf coating in the Cusco Baroque style and a collection of canvases from the Cusco school , which represents the life of San Pedro.
What to do in the South Valley?
In the South Valley you can enjoy the following tourist attractions:
Archaeological site of Tipón.
Archaeological site of Piquillacta.
Colonial church of Andahuaylillas.
Archaeological site of Raqchi.
Huasao wetlands.
How to visit the South Valley of Cusco?
To visit the South Valley of Cusco you must acquire the 'Cusco Tourist Ticket (Circuit 2)'. This tourist ticket includes admission to several tourist attractions such as: Tipón, Pikillacta, Coricancha museum, Regional Historical Museum, Museum of Contemporary Art, Monument to Pachacutec, Museum of Popular Art and the Qosqo Center of Native Art.
The Cusco Tourist Ticket can be purchased in the city of Cusco: Avenida El Sol 103 and Calle Garcilaso s / n. Another option is to visit the tourist attractions of the South Valley directly and buy the entrance tickets at the entrance door.
Tipon
They say it was a royal garden commissioned by Wiracocha; It is one of the best examples of agricultural terraces created by the Incas; These terraces extend through the narrow valley and are fed by springs from the Pachatusan Aphat (mountain). You can also see a complex of temples, irrigation canals and aqueducts. Tipón is located 24 km southeast of Cusco.
Pikillaqta
Pre-inka architecture in Pikillaqta. This adobe complex was built by the Wari culture between 700 and 900 AD. A few meters from the area, you can see a small Inca site known as Rumicolca, which functioned as a kind of toll for travelers who pass through the site.
Andahuaylillas
Andahuaylillas is one of the colonial cities of the territory, in this city there is an old church known as "The Sistine Chapel of America"; It is home to gold high schools, Cusco school paintings, and multi-colored ceilings. The chapel is quite simple and modest on the outside; but once inside, you can see the wonderful interior decorated with works of art from the famous Cusqueña school. On the way back, you will pass through the towns of Saylla and Huasao. In Saylla, you can taste the typical food of Cusco; delicious pork shells, roast pork, suckling pigs and a soup consumed since the time of the Incas, known as Chairo. In the afternoon, return to the city of Cusco. Free afternoon.
What to pack for the Cusco City Tour?
A light daypack
Drinking water
Raining poncho
Sun hat and sunscreen
Some additional Snacks
Original passport and if applicable student card «ISIC»
Extra money in soles
Price
HOW MUCH DOES THE CUSCO CITY TOUR COST?
We have different price alternatives that can accommodate all budgets. All prices are per person and expressed in US Dollars.
Email us your quotes and reservations at: info@dreamy.tours.
Alternatively, you can also contact our sales executives directly via the phone numbers below, we are happy to assist you.
Office: +51 084-548558
Phone – WhatsApp: + 51 969 787221
Phone – WhatsApp: +51 963 414 234
HOW TO BOOK THE CUSCO CITY TOUR?
To start the reservation process, please send us the following information:
Name and surname:
Passport number:
Nationality:
Date of Birth:
Sex:
Phone:
Very important – We need the address and information about the hotel that you are staying at, in the city of Cusco, to be able to pick you up at the time when the tour starts
To confirm reservations it is required to pay 50% in advance and the other 50% can be paid upon arrival at your destination.
PAYMENT METHODS
WESTERN UNION
PAYPAL
TRANSFER TO OUR BANK IN PERU
MONEYGRAM
NIUBIZ
GENERAL CONDITIONS
All rates for our Peru Packages are expressed in US dollars (subject to currency exchange rates) and are priced per person
The rates for Peruvians only include VAT
All our rates are subject to availability and circumstances
Children under 2 years and 11 months are considered INF (babies) and are not permitted on this tour
Children from 3 to 10 years and 11 months are considered DCC (child) and thus eligible for special rates and obliged to share the room with their parents
Children over 11 years old are considered adults
Minors must travel with an identity document
Rates do not apply to holidays, Easter, long weekends, national holidays, Christmas, or New Year
Map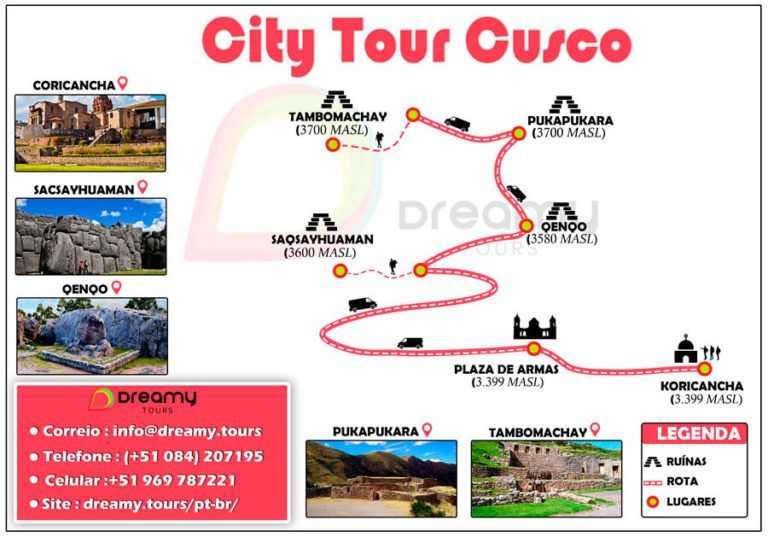 ¿Que te parecio este tour?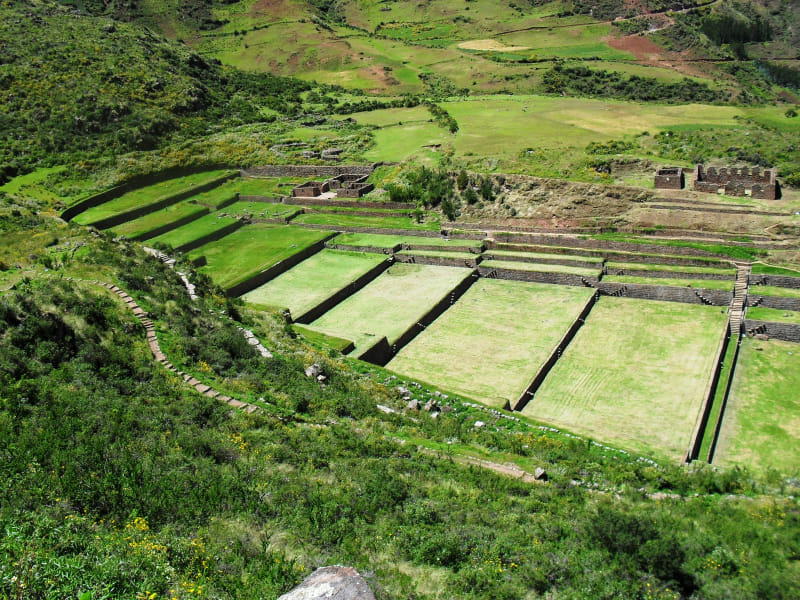 Brand Name
Product Name
Price
Product Availability