Wiñaywayna means "Eternally Young", it is an archaeological site belonging to the Inca period, built by the Inca Pachacutec, the highest representative of the Inca Culture, known as the architect of the Inca period. The name corresponds to an orchid that abounds in the place.
Location:
The archaeological center of Wiñaywayna, is located at 2650 m.a.s.l. and 5 km southeast of Machupicchu. The magnificent and impressive construction of Wiñaywayna, stands on a steep hillside, defying the abyss.
Wiñaywayna is at 2,650 m. / 8,694 ft. 5 km southeast of the main Llaqta of Machu Picchu.
What is Winay Wayna in Perú?
This architectural complex of Wiñaywayna, corresponds to the plan of a small town, they are a group of houses grouped, in a single patio, in the manner of current condominiums. The possible dwelling areas have trapezoidal style niches and single-jamb door openings.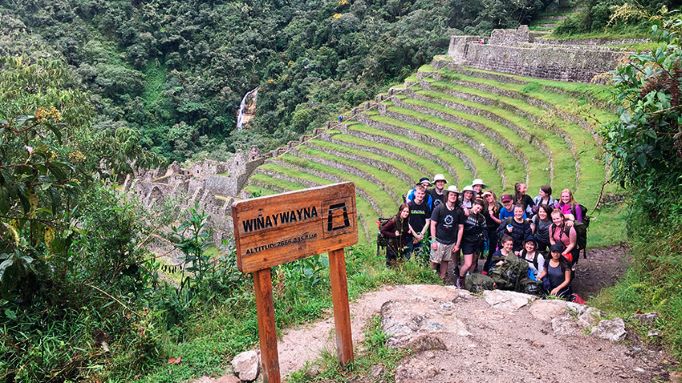 Winay Wayna in Perú is surrounded by platforms of different sizes, which responded to the function, either for agriculture or containment to avoid the erosion of the land. You can see the structures, the gables for the thatched roofs that were fastened with rings.
Likewise, the set of liturgical fountains stand out, on a strongly inclined surface, the entire small city is made of granite rock and seen from a high part, clearly, we can see that it has the same architectural distribution as Machu Picchu.
Built during the Inca period, by Pachacútec, the highest representative of the Inca Culture, who channeled the water from the rivers and built magnificent cities.
This magical and impressive place is located in the middle of an extraordinary and exotic vegetation, Wiñaywayna has two sectors, one lower and one upper, connected by a long staircase.
Both sectors are made up of:
agricultural terraces
ritual sources
buildings built with granite lithic elements.
The architecture is of the same type as in Machu Picchu.
How to get to Winay Wayna in Perú?
The third day is reached through the traditional Inca Trail, another way to get there is by doing the short Inca Trail of 2 days, for this it is necessary to do the train route, and then start the ascent at km. 104 or Chachabamba tourist checkpoint; this place is very cozy, has the basic services and a large garden where the visitor can rest peacefully. The walk from this checkpoint to Wiñaywayna lasts 3 and a half hours.
For both accesses, it is necessary to make a reservation in advance and you must also be physically prepared for the walk; which is considered a difficult route to reach one of the wonders of the world.
Wiñaywayna, is fully conditioned so you can spend the night peacefully, it is also quite safe, it has more than 125 square meters of retaining walls.
It is said that youth is not a matter of years, wake up at Wiñaywayna and feel really renewed!