There are many reasons to visit the wonders that Cusco and Peru have to offer, from their diverse natural geography to their cultural festivals, gastronomy and the remains of a millenary civilization.
Every year millions of tourists travel to the Andean country to see the archaeological remains of the great Inca citadel of Machu Picchu, the cultural and natural beauty of Cusco, as well as the tourist attractions located in different parts of Peru; But since 2015, newly discovered geological wonders have been added to the list of must-see destinations in Cusco and throughout Peru.
That is why we will give you a brief description of these incredible places that you must include in your travel agenda within your Peru 2021 package, which you must meet with the people you love the most: for them we recommend that you visit: Vinicunca, Palccoyo and Pallay Punchu.
VINICUNCA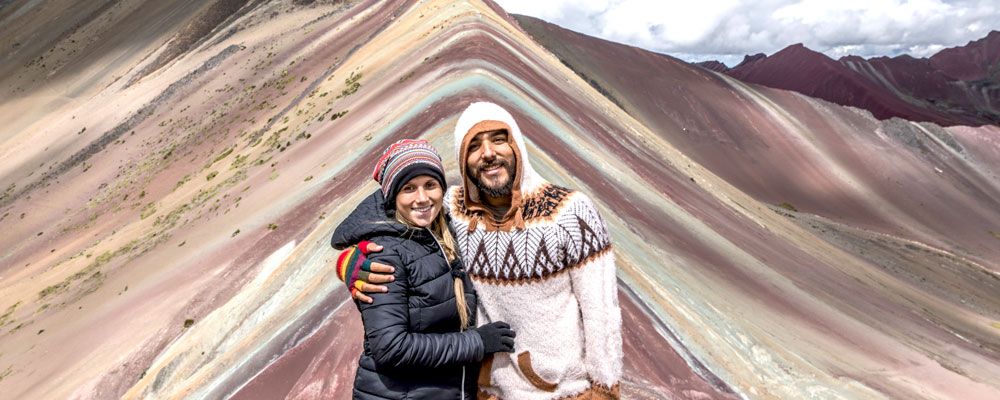 Vinicunca comes from the Quechua place name: Winicunca, which means Colina do Neck Narrow. The locals call it Apu Winicunca. Vinicunca, also known as the Mountain of the Seven Colors, rainbow mountain, or more simply Rainbow Mountains, located deep in the Peruvian Andes in Cusco just 3 hours from the historic center to the southwest, today it is known as the main tourist attraction the south valley; to see after or before the tour to Machu Picchu.
Vinicunca is a geological beauty, the mountain is famous for its natural and multicolored beauty for many of its visitors and even more so that it is located at 5200 meters above sea level, the famous rainbow mountain is created by the sediment of minerals in the entire area that gives the mountain the colors turquoise, lavender, gold and others. It makes it unique because it is also located at the foot of the great snowy mountain of Apu Ausangate.
The Vinicunca was discovered five years ago; As before, this beautiful mountain of colors was covered in snow melting onto it, revealing the natural beauty of the rock below it. Formed by inclement weather, environmental conditions, and sedimentary deposits over time, the mountain's unique extraction created a marble-like effect, as seen today, with layers of gold, lavender, red and turquoise hues that rise to the sky.
Additional Information:
Mount Arco-Íris is located at 5200 meters above sea level, more than half of Mount Everest.
It is also known as Vinicunca, an original word from the native language of Quechua Peru, which translates as "colorful mountain".
The mountain is composed of 14 minerals of different colors, unique in the world.
Only 5 years ago it was completely covered in snow, so it was impossible to fully witness the beauty of the mountain.
Temperatures still drop below 0ºC at night; Therefore, it is good to get information for those who visit Rainbow Mountain, as many visitors prefer to do it on the Ausangate tour; because Vinicunca is included.
You can see typical animals on the way to Vinicunca, such as llamas, alpacas, guanacos, wild birds and other animals.
The weather is not necessary in this place, as it can change quickly from snow to rain and sun.
If you want to know this wonderful place, you should know that you can rent a horse at any point along the way, if you start to find the walk difficult; it is not necessary to hire one from the beginning.
It is essential to know this place with a unique geological landscape in Peru, so we recommend that you visit the Vinicunca Peru tour.
PALCCOYO
The Sierra de Palccoyo is a group of peaks stained in colors, due to a mineralization process over millions of years. The mountain is located in a town with the same name, Palccoyo. This is located in the department of Cusco and can be done on a day trip from the city.
Monte das Sete Cores de Palccoyo is a set of colored peaks, its geological origin is a mineralization process over millions of years. The view of these mountains is absolutely spectacular and even more so because of the beauty of the Ausangate mountain, since Pallcoyo is located at the foot of the mountain.
Besides being a natural attraction of incomparable beauty, the Mountain of the Seven Colors is the natural habitat of various types of animals, both wild and migratory, such as llamas, alpacas, vizcachas, condors among others; This tour not only offers you a spectacular view of these colorful mountain peaks, but you can also hike to the Pedra or Rocha forest.
Palccoyo's highest peak is 4,900 meters above sea level. This means that it is quite cold there, so it is recommended to take the necessary precautions and be prepared.
The Palccoyo Rainbow Mountain in Peru has received a lot of attention lately by its visitors and it is definitely one of the best places to visit if you come to the imperial city of Cusco.
When you are in the city of the Incas, we recommend that you take this tour of the Three Rainbows and see these postcard-shaped mountains and their unique landscape in the world. And without a doubt, the Rainbow Mountains of Palccoyo will immediately surprise you with their variety of colors due to the minerals in the soil.
Palccoyo is the alternative rainbow mountain route where you will see not just "one" rainbow mountain, but three and the walk is only 1 hour long.
Additional Information:
The altitude reached when visiting Palccoyo is 4,900 meters above sea level.
The walking time to Palccoyo is 1 hour and a half round trip.
Palccoyo is said to only require a low level of fitness
The climate in Pallcoyo is cold with low temperatures.
Palccoyo is best visited between April and November, when it usually rains much less.
In Palccoyo, you will see a total of 3 colored mountains (Rainbow Mountain).
What are you waiting to know this natural wonder that only Peru has for the world!
PALLAY PUNCHU
The Pallay Punchu or Pallay Puncho mountain of Apu T'akllo Apacheta, is located in the district of Layo; Canas province, in the Cusco Region, at 4,700 meters above sea level, approximately 3 hours from the city of Cusco; It is the new tourist attraction of Cusco as of 2020. With this, Cusco would already add its third mountain of colors, which without a doubt you should put on your Travelers List and consider it a must-see place.
Layo is practically an unspoiled destination for international tourism. It sits on the shores of the impressive Langui-Layo Lagoon and the people there have proudly preserved their traditions for millennia.
Layo stands out not only for its incredible landscapes, but also for its delicious gastronomy, since it is a bovine and agricultural district. You can enjoy a delicious guinea pig meat, a trout ceviche or a creamy cheese while you contemplate the immensity of the lake's waters.
The origin of Pallay Punchu is due to the geological formation that contributes to its variety of colors such as red, brown, magenta and a few others. Not only the colors make this a beautiful place, but also the impressive view that you get; since you can also enjoy the famous Langui-Layo lagoon.
The best time to visit this place is in the dry season and with strong winds. During the day it is very sunny and in the afternoon it is very cold, a wind that burns and only one that does not seem to heat anything, this season runs from May to October, so that we can see the bright and colorful mountain. .
Pallay Punchu is the newest tourist attraction in Cusco and Peru. Today it has been positioned as a list of places that travelers can visit in 2021.
Do not miss the opportunity to hike the third mountain of the rainbow of Cusco!
Recommendations for the Pallay Punchu Tour:
It is recommended to be well acclimatized to the altitude, it is advisable to go after being in Cusco for 2 or 3 days.
You must be in good physical condition to reach the top of Pallay Punchu Mountain.
It is advisable to carry a trekking pole to support you and help you with the walk.
Wear sunglasses with UV protection.
Hat or cap and strong sunscreen.
Wear trekking shoes.
Wear light and warm clothing, such as gloves, scarves, chullos, etc.
RECOMMENDATIONS TO AVOID ALTITUDE SICKNESS:
To ensure that you are prepared for the harsh climate of Vinicunca, Palccoyo or Pallay Punchu, it is advisable to take the following precautions before your trip to these magical places of nature:
Thermal underwear – Windproof
Thin layers
Gloves and hat
Sunscreen
Mineral water
Sun hat
Sunglasses, since you will be closer to the sun.
It is also recommended that you spend at least 2 days in the city of Cusco in advance to acclimatize, since all these tourist destinations are more than 4,000 meters above sea level so that the cold does not affect you so much when you arrive at these places.
Bring some Peruvian coins (soles) if you see something you want to buy or need even more snacks!