Hello bloggers, today I'm going to write, talk about the Ica region and the Ica attractions to visit. Lean more in the blog below.
About Ica: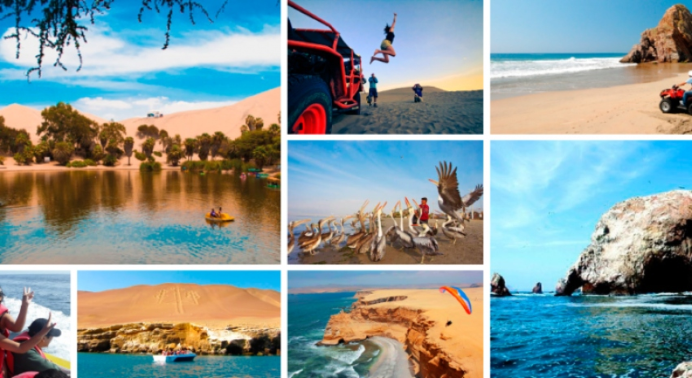 Ica, capital of the region of the same name, located in an interior valley formed by the Ica river, is surrounded by deserts, and is the only region formed by plains; the Andes Mountains rise far inland.
Ica in Perú is famous for its countryside, wine centers; for the quality of its wines, being in this area the most important wine producers. It is worth highlighting the harvest festival of Ica, carried out with great consumption of wine and cachina.
In its fertile valleys cotton, vine, tobacco and flax are grown. It has important ports dedicated to the extraction of tuna, bonito and swordfish, from which canned fish and fish meal are produced.
Location:
It is located in the centre west of the country, bordering Lima to the north, Huancavelica and Ayacucho to the east, Arequipa to the south and the Pacific Ocean to the west. With 21,327 km² it is the sixth least extensive department – ahead of Apurimac, Tacna, Moquegua, Lambayeque and Tumbes, the least extensive – and with 33.4 inhabitants / km² it is the seventh most densely populated – behind Lima, Lambayeque, La Libertad, Piura, Tumbes and Cajamarca—. It was founded on January 30, 1866.
Its territory is almost entirely part of the coastal desert of Peru and forms the so-called Great Tablazo de Ica. In its coastal valleys, advanced cultures of Ancient Peru developed. It currently stands out for its extensive agro-export production.
Weather of Ica:
The weather of Ica is characterized by its temperate and desert weather of Ica, with an enormous concentration of humidity in the coastal zone. There are two very pronounced trends: dry and cloudy from May to November, when the temperature drops to 9 ° C in the city of Ica itself: and hot and suffocating from January to April, both in Ica and Pisco. The highest temperatures in the department can reach 32.3 "C in Ica and 27 ° C in Pisco. The annual average is 20 ° C.
As in the entire middle area of ​​our coast, rainfall in Ica is scarce and connected to the Andean region, that is, it only happens in January, February and March. In Pisco and Paracas Reserve the sea breezes turn into strong winds called "paracas", with a speed that can reach 70 km / h, generating dunes and dunes in the deserts.
Tourism in Ica Perú:
The Department of Ica in Perú has five provinces listed from north to south Chincha, Pisco, Ica City Tour, Palpa and Nasca, where there is a diversity of areas for tourist attraction, however many of them are not so widespread due to the remoteness they represent.
Among the many tourist attractions of Ica in Perú, the main highlights are:
Chincha city
Hacienda San José in Chincha.
Ica
Lines and geoglyphs of Pampas de Jumana.
Paracas National Reserve
Tambo Colorado
The seven-headed palm tree
Protected natural áreas in Ica Perú
Paracas National Reserve
San Fernando National Reserve
National Reserve of the Guaneras Islands, Islets and Points System
How to get to Ica?
The department of Ica is well-connected by land, since from Lima there are interprovincial transport services, through the South Pan-American Highway.
The access roads to the department of Ica are by air and land.
Then see the following access routes to get to Ica:
Airway
From Jorge Chávez International Airport (Lima) there are air services to this region. You can also find air services that fly locally over the Nazca Lines.
Land route
Lima – Ica: 325 km (202 miles) of tour in tourist buses along the South Pan-American Highway. The trip takes about 4 hours.
Ica has two aerodromes:
Aerodrome: Located near the Hotel Las Dunas, 5 km from Ica.
María Reiche Aerodrome: Located at km 447 of the South Pan-American Highway (Nazca).
Distances from the city of Ica
Chincha Alta (Prov. Chincha) 100 km / 1 hour.
Nasca (Prov. Nasca) 147 km / 2 hours.
Palpa (Prov. Palpa) 97 km / 1 hour.
Pisco (Prov. Pisco) 60 km / 50 minutes.