Cuzco is fascinating because it is a destination where you will find history, nature, adventure, art, gastronomy and customs that are preserved. Come and enjoy the warmth of a town, the warmth of a city that visitors enjoy. Cuzco awaits you! You cannot miss the opportunity to meet her!
You can come to Cuzco as a stopover before traveling to Machu Picchu or to explore the city that was the capital of the Inca Empire. Cusco is the birthplace and capital of the Inca civilization, the largest empire in the Western Hemisphere and the most powerful city on the continent. It can be compared to cities like Rome, Athens and Cairo.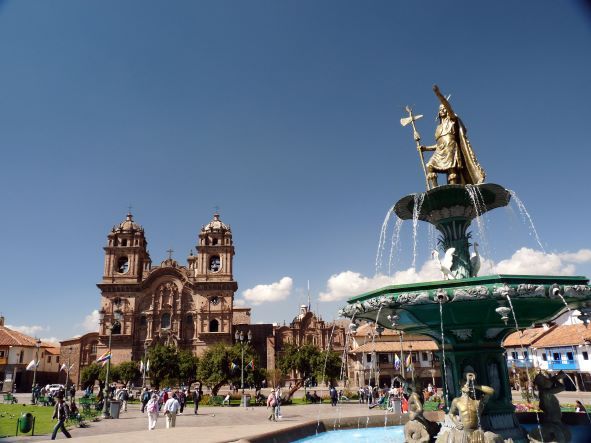 The chronicles of the conquest describe Cuzco as a city of luxurious residences, extravagant palaces and huge temples awash in gold. In the 16th century, the history of Cuzco would change forever, after it was invaded and almost destroyed by the Spanish invaders.
Today, people from all over the world, from all cultures, religions, and socioeconomic levels mingle in the main square of Cuzco. Cuzco is one of the most cosmopolitan and interesting cities in South America and is considered a World Heritage Site. You should take into account some practical tips that will help you "get to the city of Cuzco" and make your trip as complete and comfortable as possible.
Do not miss the opportunity to explore the imperial city of Cuzco in a proper and unhurried way. Distances and travel times are highly variable in Peru. Therefore, geography requires drivers to drive calmly. This is undoubtedly the best way to travel to a destination like Peru.
How to get to Cusco – Peru?
The first step to get to Cusco is to get to Peru. International flights that arrive in Peru arrive in the city of Lima, capital of Peru.
How to get to Peru from the United States and other North American countries?
From North America there are direct flights to Lima, from airports in the cities of Houston, Los Angeles, New York, Miami, Atlanta, New Jersey, Mexico and Toronto.
How to get to Peru from Europe?
From Europe, you can reach Peru directly from the airports in the cities of Madrid, Spain, Paris in France or Amsterdam in the Netherlands.
How to get to Peru from Latin America?
The cities of Bogotá, Rio de Janeiro, Quito, Mexico City, La Paz, São Paulo, Havana, Santiago, San José de Costa Rica, Buenos Aires, Caracas, Santo Domingo, Guayaquil, among others, have non-stop flights A lime. Peru.
How to get to Peru from Asia or Oceania to Peru?
People from countries in Asia or Oceania will have to make stops in the United States or Europe, because there are no direct flights to Peru from cities on those continents.
How to get from Lima to Cusco?
How to get from Lima to Cusco by land?
The tour can be done directly by bus. The distance from Lima to Cuzco by bus is 570km, 21 hours by bus.
These buses depart and return daily from Lima. The companies that circulate on this route are: Cruz del Sur, Mobile Tours, Julio César, Linea, Oltursa, Flores, CIVA, MOBILE BUS among many others.
How to get from Lima to Cusco by plane?
If you choose to travel by plane, there are daily and direct flights. It is possible to arrive by plane through the route from Lima to Cuzco. The duration of the trip is approximately 1 hour.
The airlines that operate this route are: Viva Air, Avianca, LC Peru, Latam, Star Peru, Peruvian Airlines. Check flights in the mentioned travel agencies or companies. Look for flight deals, dates like June, July, October and November, there are usually promotions or offers on cheap flights.
How to get from Lima to Cusco by other routes?
Other routes leave Lima from Nasca to Puquio, then Abancay and arrive in Cuzco. It is 1,136km, approximately 26 hours by car.
Another route leaves from Lima to Arequipa, reaching Cuzco at approximately 1,650km in 24 hours by car.
How to get to Cusco – Peru by train?
From Cuzco you can travel by train to the city of Puno, on the shores of Lake Titicaca, the city of Arequipa and the Machu Picchu National Park. So it is also possible to get to Cuzco by train if you are in one of the places mentioned.
The train route from Cuzco to Puno was awarded as the second most beautiful in the world. During the train ride, you will slowly ascend to great heights. In the first half of the trip, you will be able to enjoy the magnificent Andes mountain range, after the Andean plains, where vicuñas and alpacas can be observed.
How to get to Cusco – Peru by bus?
You can get from Lima to Cuzco by bus along the route of the South Pan-American Highway. Some people pass through the city of Arequipa during this tour: although you can go directly to the city of Cuzco if you wish.
The best tours in Cusco
Many are the best tours in Cuzco, but none is like the Inca Trail to Machu Picchu. This is the most famous trail in America.
If you want to visit Machu Picchu, we recommend that you book your tickets for Machu Picchu 2020 in advance, so that you can enjoy well-known activities in Peru without any problem.
What is the best time to visit Cusco?
The best time is during the dry season, which runs from April to the end of September. In October the rains begin and Machu Picchu can be found covered in clouds. If you are traveling in June, we recommend that you book the 2020 Inti Raymi Tour, which will take place on June 24. Also take a tour of Palcoyo Mountain which is an amazing colorful mountain located in the Andes.
How to get from Cusco to Águas Calientes?
The train ride to Machu Picchu is an incredible experience. The section through the Sacred Valley of the Incas is considered one of the most incredible short train trips in the world.
An important step to get to Machu Picchu from Cuzco is to book train tickets. We recommend that you book immediately after knowing the day you will visit Machu Picchu. Many services tend to sell out weeks in advance.
How to get from Cusco to Ollantaytambo?
You must take a vehicle on Rua Pavitos, in Cuzco, to get to Ollantaytambo. If you are near the Plaza de Armas you can walk. The price ranges from 15 (US $ 5) to 30 soles (US $ 10), depending on the speed at which you want to go from Cuzco to Ollantaytambo. Taxis are more expensive, but obviously faster.
How to get from Ollantaytambo to Águas Calientes by train?
To board the train at Ollantaytambo station, you must have previously reserved train tickets. As we said, this short train route is considered one of the best in the world and it goes without saying that each landscape is a feast for the eyes. From time to time, you will see humble villages, Andean communities and their fields of crops.
We recommend that you do not miss the opportunity to visit Ollantaytambo, an ancient Inca city known as the "living Inca city".
Its inhabitants have customs that come from the time of the Incas and its streets also maintain their original name since that time. It also maintains Inca water channels that are still used today.
How to get from Aguas Calientes to Machu Picchu?
Once in Águas Calientes, look for a hotel. Unless you are traveling in high season (June, July and August), it will be easy to find. Prices range from 60 soles (20 dollars) a night (the cheapest) to 800 dollars a night in 5-star hotels.
After reserving your hotel, get bus tickets from Águas Calientes to Machu Picchu, which will be the easiest and fastest way to get there. You will find the ticket office next to the train station, before the bridge of ruins and just in front of the station where you will board. You can also walk from top to bottom, although we think you should take the bus to save all your energy for the tour in the Inca city, especially if your tickets to Machu Picchu include any of the mountains.
Now that you know how to get to Machu Picchu from Cuzco, you can choose the type of trip you want to take, if you have time and depending on how much money you want to spend.
How to get from Cusco to the Sacred Valley?
The Sacred Valley of the Incas is a necessary point of passage before reaching Machu Picchu. Many visitors choose to visit it before visiting the Wonder of the World.
How to get from Cusco to the Sacred Valley on a guided tour?
If you plan to visit only the valley, the most common routes are 1 day and you go through the main tourist attractions such as Pisac, Ollantaytambo and Chinchero. The most important places to visit are: Pisac, Urubamba, Ollantaytambo, Chinchero, Moray and the salt mines of Maras. Almost all include archaeological sites, adventure sports, and more.
An organized tour will save you connection time with transportation. In addition, you will travel with greater safety.
How to get from Cusco to the Sacred Valley without a tour?
Yes, it is possible to enjoy the Sacred Valley on your own. The costs depend on the means of transport to be used and the places to visit. There are public transport services, as well as private taxis that accompany tourists during their visit.
How to get from Cusco to the Sacred Valley by bus?
The buses leave every day from Cuzco to all the cities of the Sacred Valley. You will find buses that leave every 15 minutes to Ollantaytambo. Bus tickets cost around $ 5.
Getting to Pisac by bus takes between 45 minutes and an hour and costs about $ 9. Once you arrive in Pisac, you can either walk 5 minutes to the market or visit the Pisac ruins, on top of the city. From Pisac, you can go to Urubamba in 30 minutes or to Ollantaytambo in an hour. Prices range from $ 2 to $ 3.
You can also get directly from Cuzco to Urubamba. The trip takes about an hour and a half and costs US $ 3. From Urubamba, you can visit the towns of Maras, Moray and Yucay, all just minutes from this city. Then you can continue to Ollantaytambo (30 minutes).
How to get from Cusco to the Sacred Valley by taxi?
Collective taxis are a popular and inexpensive way to get to the Sacred Valley.
Small cars or minivans leave Cuzco when they are full. This service can cost between $ 5 and $ 6 per person. You can find buses at various points in the city of Cuzco, on Rua Pavitos, in the main square of Ollantaytambo (return) and on the road from Cuzco to Pisac.
Private taxis are the fastest and most convenient way to get to the Sacred Valley. They cost between $ 20 and $ 490, depending on where you want to go.
How to get from Cusco to Lake Titicaca?
How to get from Cuzco to Lake Titicaca? To a large extent, it is clear that the lake has many cities on its shores. The main city you must visit is Puno.
How to get from Cusco to Lake Titicaca by bus?
It is the cheapest alternative, without a doubt. You can get tickets between 10 and 17 dollars in different companies (Cruz del Sur is the best known) located in the Cuzco bus terminal. The trip lasts 6 hours and 30 minutes.
It is advisable to arrive at the terminal an hour in advance, due to the large number of people who normally travel.
How to get from Cusco to Lake Titicaca by tourist bus?
This is the famous Ruta del Sol (Ruta del Sol). It is a tour offered by different companies with intermediate stops (such as Andahuaylillas, Raqchi, Pukará and Juliaca). They have a guide and a stop for lunch and its duration is about ten hours.
Prices vary by company, but range from $ 45 to $ 60. Tours depart early in the morning.
How to get from Cusco to Lake Titicaca by train?
Those who have the time and money will not want to miss out on traveling on a train in luxury and comfort.
Traveling like this is an ideal option to enjoy the beautiful landscapes that the route offers in high fields. The service runs on Wednesdays, Fridays and Sundays and departs at 7:50. The train arrives in Puno at 18:08, after passing through stops of historical or geographical importance.
The ticket costs around US $ 346 for two people. There are other options to spend the night with all the comforts of Arequipa (it lasts three days and two nights).
How to get from Cusco to Lake Titicaca by car?
Those who have a car or a rental can follow the route to Puno. It is estimated that almost six hours of driving, or more, connect Cuzco with Lake Titicaca.
How to get from Cusco to Lake Titicaca by plane?
Remember that if you prefer a faster alternative, taking a flight is the best option.
The trip only takes 50 minutes, although you must consider that the airport is in Juliaca, 45km from Puno. Latam is the only airline that flies from Cuzco to Juliaca and operates this route daily. A round-trip ticket costs around $ 130.