Madre de Dios (in Quechua: Amaru Suyu) is one of the twenty-four departments that, together with the Constitutional Province of Callao, make up the Republic of Peru. Its capital and most populated city is Puerto Maldonado.
It is located in the southeast of the country, in the Amazon, limiting to the north with Ucayali and Brazil, to the east with Bolivia, to the south with Puno and to the west with Cuzco. With 85,300 km² it is the third largest department —behind Loreto and Ucayali— and with 1.3 inhabitants / km², the least densely populated. It was created on December 26, 1912 from the territories of Puno and Cuzco.
Location
Madre de Dios is a department of Peru located in the southeast of the country, making up part of the Amazon in its entirety. It was created on December 26, 1912 from territories of the departments of Puno and Cusco. It receives its name from the Madre de Dios river, from whose basin most of the region's rivers are tributaries and on whose banks the capital, Puerto Maldonado, is located.
Flora and Fauna of Madre de Dios in Perú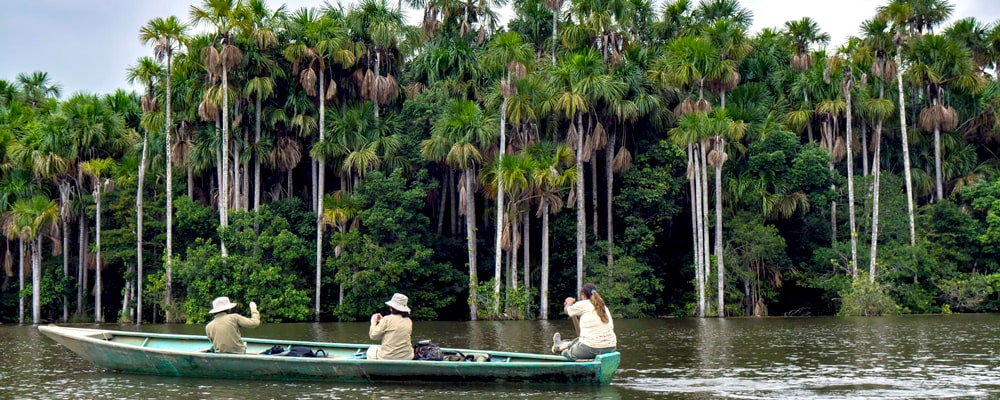 Madre de Dios in Perú is very rich in terms of fauna and flora, since its large hectares and forests make the ecosystem of these animals possible.
Madre de Dios in Perú is not only known as the Capital of Biodiversity of Peru, but it is also recognized as the region that is home to important ecosystems, which are threatened by a series of activities, including illegal mining.
The Flora and Fauna of Madre de Dios in Perú presents world records, for example it is home to a thousand species of birds, 200 of mammals, 250 of fish, a high number of reptiles, amphibians and plants. For this reason, the Flora and Fauna of Madre de Dios is very varied due to its large number of animals and plants.
Madre de Dios in Perú also presents unique ecosystems in Peru, as is the case of the Pampas del Heath that is located within the Bahuaja Sonene National Park. This type of special habitat supports two endemic species: the maned wolf (Chrysocyon brachiurus) and the swamp deer (Blastocerus ichotomus).
Tourist Attractions
Madre de Dios in Perú is one of the richest departments in terms of Fauna, flora, and landscapes, a visitor can go and be totally amazed at this natural paradise, where native ethnic groups still exist, it has impressive lakes, lagoons , deep rivers where they are used for navigation, in Madre de Dios there are many natural resources, where this place is being used and promoted for tourist activity where adventure takes on another meaning, where each human sense fully experiences the creation made by God .
The Manu National Park, is within Madre de Dios and is mentioned since it is one of the most recognized and revered laboratories and wildlife shelters on the planet, this is without exaggeration since it sees a huge variety of animal and plant species develop, many of them in danger of extinction, discovering, for example, that in Manu there are more than 800 species of birds, around 200 kinds of mammals, or even more than a hundred varieties of bats, is something simply exciting.
But the sensitive beauty in Madre de Dios seems to never run out. A few minutes from Puerto Maldonado, its warm capital city, we are excited to know that the Tambopata National Reserve has new surprises in store for us. With a territory almost 8 times smaller than that of Manu, this tropical reserve is also a jewel of biodiversity and has excellent hostels with all the comforts. Impressive varieties of birds, mammals, reptiles, amphibians, fish and butterflies that are discovered when diving into this paradise, and that make us recognize that Peru.
It is not just a mega diverse country. It is a country designed for the five senses. The Department of Madre de Dios has an area of ​​85182.63 km2, which represents 6.6% of the Peruvian Territory, occupying the third place in extension after the Departments of Loreto and Ucayali.
Its territory is rugged in the southern sector due to the buttresses of the Carabaya mountain range, also known by the name of Sandia in the Department of Puno.
The department of Madre de Dios is located in the southeast of Peru. Madre de Dios is a rich and extensive region of the Peruvian jungle, located at 186 m.a.s.l.
The capital of this department is the city of Puerto Maldonado, which is distinguished by the breadth of its streets and the volume of its commercial activities. Its climate is warm, tropical and humid, its urban area and surroundings are profusely covered with natural and cultivated vegetation.
Puerto Maldonado is the gateway to three national parks in the Peruvian Amazon El Manu, Bahuaja-Sonene and Tambopata-Candamo. Visit Madre de Dios in the Amazon Expedition 4 Days.
Madre de Dios River
The Madre de Dios River belongs to the Amazonas basin, and it crosses the countries of Peru and Bolivia. It is a tributary of the Beni River. It has an approximate length of 1,150 km and is a binational river, as it flows through the southeastern part of Peru (655 km1 through the Madre de Dios region) and northwestern Bolivia. Drains a basin of more than 100,000 km².
It is found in a very humid area of ​​the sub-Andean Amazon, the Peruvian Amazon, which explains its high flow. It allows optimal navigability, you can travel without difficulties from Puerto Maldonado to its confluence with the Beni River.
Among the many activities that take place in Madre de Dios River, the mango plantations and gold mining stand out, as well as the selective logging of fine woods and agriculture, which cause serious environmental problems.
How to get to Madre de Dios?
The access roads to the department of Madre de Dios are by air, land and river.
Then see the following access routes to get to Madre de Dios:
Airway
Puerto Maldonado has the Padre Aldamiz International Airport, small, with comfortable and comfortable facilities. Located 7 km. west of Puerto Maldonado. It operates regular air traffic for flights from Lima and Cusco; generally all flights from Lima make a stopover in Cusco. Eventually it has flight traffic from Brazilian border cities.
Land route
Puerto Maldonado is accessible from Cusco by buses only during the dry season and winter (from April to November) because now we have the Interoceanic highway. Even though the distance is short (533 km.), The trip is 10 hours (depending on the weather) since the road is quite accessible.
Waterway
The main river, the Madre de Dios, does not have extensive fluvial traffic, because in the area of ​​Brazil there are waterfalls that prevent navigation in all its extension and its connection with the Amazon River and exit to the Atlantic.
River transport is carried out in smaller boats, regionally.