Km 104 of the Inca Trail is the place where the Short Inca trail to Machu Picchu begins.
The Inca Trail to Machu Picchu or Qhapaq Ñan is the trekking and camping route with a 39 km route.
The shorter path begins at Km 104 of the railway line to Machu Picchu. It passes through different ecosystems, colossal archaeological sites and places rich in flora and fauna, until it reaches the citadel of Machu Picchu.
Where is the Km 104 of the Inca Trail?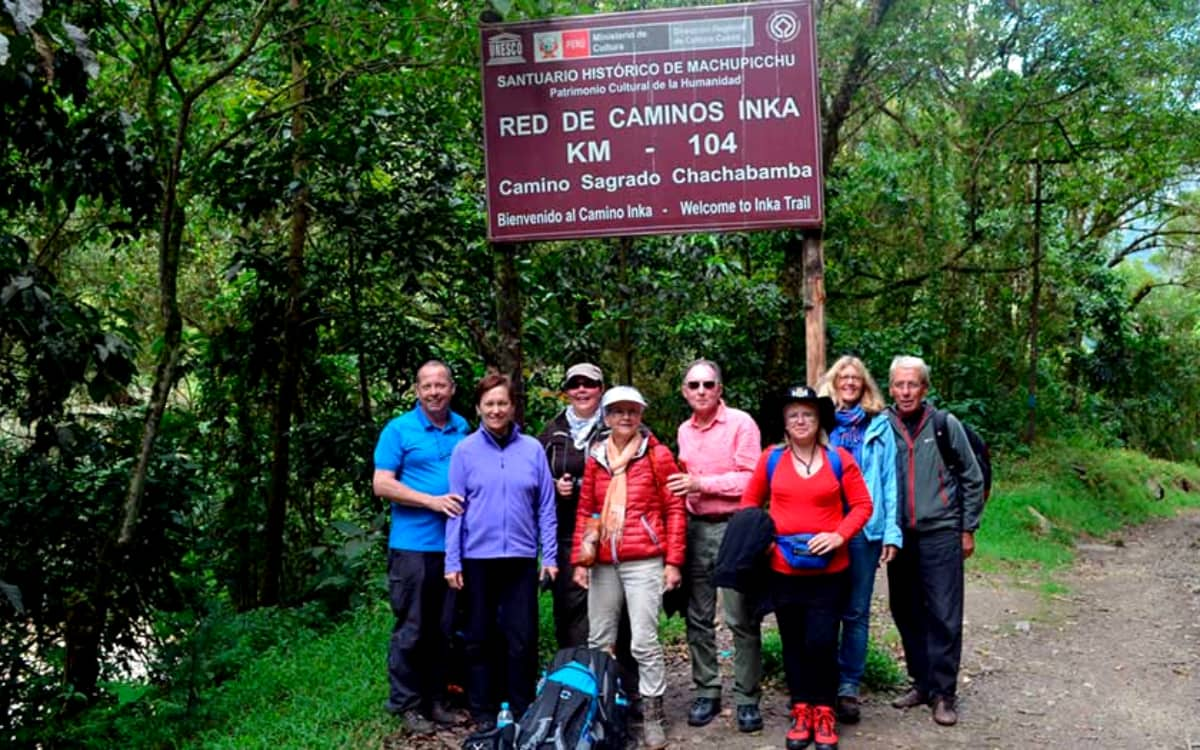 Kilometer 104, is located in the district of Ollantaytambo, province of Urubamba in the City of Cusco, on the edge of the Machu Picchu National Park, and where visitors begin the Short Inca Trail, you can arrive by train in approximately 1 hour and a half from the city of Cusco.
Short Inca Trail Route
Route that is mandatory to do with a local guide through one of the many companies that offer this service.
After crossing the suspension bridge over the Urubamba River and visiting the archaeological site of Chachabamba, we will go up to the splendid archaeological complex of Wiñayhuayna, located high in the impressive mountains that dominate the Urubamba Valley.
During the journey we can also appreciate the typical vegetation of the rainforest. Then, we will visit the archaeological ruins of Intipunku (Puerta del Sol) and we will arrive at Machu Picchu.
Km 104 to Machu Picchu
The journey from Km 104 to Machu Picchu begins in Cusco with a 2-hour drive to the Ollantaytambo train station. The train trip from Cusco lasts 1 hour and 30 minutes to Km 104 of the Inca Trail, where the control point and the head of the trail are located. After a short hike, the first complex to visit is Chachabamba (7862 feet). You pass through the checkpoint (your passport is needed to check-in) and you start walking the Inca Trail to Machu Picchu.
The hike takes you through a mixture of cactus vegetation and green cloud forest, arriving at the spectacular Inca complex – Wiñay Wayna. After our lunch here, we continue along Inca trails, and soon we arrive at Puerta del Sol (Inti Punku) that overlooks Machu Picchu.
After contemplating the view and resting for a while, we will descend to the city of Aguas Calientes to enjoy the hot springs and enjoy a good night's sleep in a comfortable hotel in Aguas Calientes. Due to National Park regulations, all hikers arriving from Km 104 to Machu Picchu cannot stay at the archaeological site upon arrival, but return the next day for a half-day visit.