Hello bloggers, today we're going to talk about, the Iquitos in Peruvian Amazon jungle. Know more about Iquitos, reading in our blog below.
As Iquitos is a city with no land connection in Peru, the only ways to get there are by air or by river. To visit the two most important places in Peru, there are flights connecting Iquitos to others city in Peru, like Lima, Arequipa, Cusco.

The center of Iquitos are the main attractions such as the Plaza de Armas, where you can see a fountain that offers night shows with water jets and lights, the Cathedral of Iquitos built in neo-gothic style and the Casa de Fierro built in iron by the famous architect Gustav Eiffel.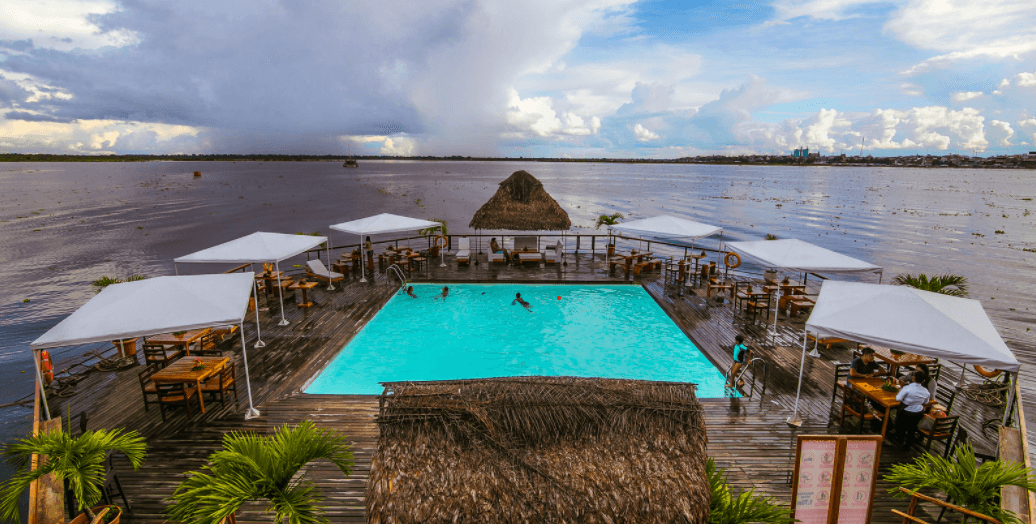 Iquitos is Located in the heart of the Peruvian Amazon jungle, this city, the largest in the world that cannot be reached by road, Department of Loreto.

In the city you can also visit the Museum of Amazonian Indigenous Cultures where ceremonial objects, musical instruments and feathered art from cultures located in the Amazon basin are exhibited.

Iquitos is the largest metropolis in the Peruvian Amazon, and is the seventh most populated city in Peru;
it is also known as the "capital of the Peruvian Amazon".
It is located on the Gran Planicie and is surrounded by the Amazon, Nanay and Itaya rivers and Lake Moronacocha.

Iquitos, gateway to the Peruvian Amazon from where the magic spreads in all directions across the majestic Amazon River.
The city of Iquitos is considered the capital of the Peruvian Amazon because it is home to all of the abundant culture, flora, fauna and excellent gastronomy of the jungle region. It has an equatorial climate with an annual average of 28 ºC.
The Belén neighborhood, known as the Amazonian Venice, is famous for its palafittes built on the Itaya River and for its rafts on which you can take tours.

In this neighborhood is located the Belen Market, a commercial area of about 1,400 m², where you can buy varied and exotic items such as turtle and lizard meat, endemic fish from the Amazon River and fruits such as the Peruvian guaba, the cocona and the lucma.

One place you should visit is the Quistococha Tourist Complex which has a zoo, an aquarium, a nursery and the artificial beach Tunchi Playa.
On your visit to Iquitos, take the opportunity to visit places like Pilpintuwasi, Monkey Island or the Amazon Rescue Centre.