What to see in the Huaca Pucllana?
Today the Huaca Pucllana in Lima Perú is a true magnet for national and foreign tourists. Its well-kept facilities, its Site Museum and its renowned restaurant received 176,839 national and foreign visitors in 2019. A record figure that is expected to be surpassed when the activity of the tourism sector resumes, one of the sectors most affected by the current situation in our country and the world.
Huaca Pucllana Ruins
Guided tours to the Huaca Pucllana Ruins begin by exploring the lower parts of the pyramid where you can see vessels and vestiges of ancient squares of the ancient settlers of Lima.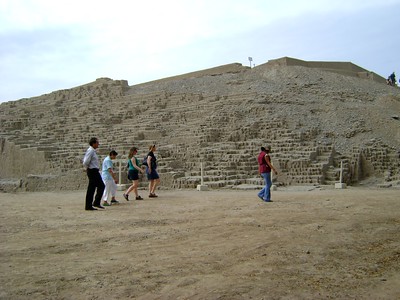 In some part of the route, a model shows, beyond the limits of the current archaeological site, a representation of spaces and the way how the Lima culture worked.
Part of the City tour in Lima shows us the typical flora and fauna of the pre-Hispanic era, where you can see the friendly llamas.
The main attraction is the 7-level truncated pyramid of the Huaca Pucllana Ruins, which was built with "adobitos", rectangular clay bricks dried in the sun. At the top of the pyramid, it is interesting to see the contrast of the ruins with the modern buildings and houses in the streets that surround the Huaca Pucllana Ruins.
Huaca Pucllana Restaurant
Inside the archaeological site is the Huaca Pucllana Restaurant with its chef Marilú Madueño and her proposal of Peruvian food with modern style.
Schedule
Daytime visit: Wednesday to Monday from 9 a.m. to 5 p.m.
Night visit: From Wednesday to Sunday from 7:00 p.m. to 10:00 p.m.