The Cocalmayo Hot Springs also known as thermal baths of Santa Teresa are the ideal place to relax after an exciting adventure in the Inca citadel of Machu Picchu that will most likely leave your body tired and wanting a bit of relaxation and break.
Location:
The town of Santa Teresa is located in the valley of the Urubamba river, in the district of the same name, province of La Convencion, department of Cusco. It is located approximately 14 kilometers from Machu Picchu town and 220 kilometers from the city of Cusco.
Weather: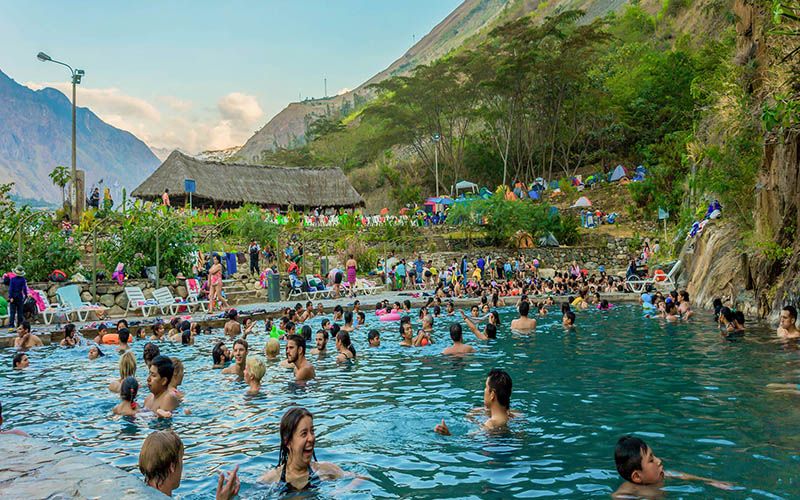 The thermal medicinal baths of Cocalmayo in Santa Teresa are located in the middle of a beautiful landscape of sub-tropical jungle, with an average annual temperature of 21 °.
The rainy season, as in the entire department of Cusco, begins between the months of November and December, usually ending in April and is characterized by torrential rains that can in some cases cause landslides and road blocks.
During the summer-or winter-season, the climate is normally dry and at night the temperature can drop as low as 11 °. This season is between the months of May and October, these being the best months to travel.
Elevation:
The district of Santa Teresa is located at an altitude of 1,511 meters above sea level and has a population of 5,972 inhabitants according to the last population and housing census of 2017.
History:
Created on October 11, 1957, the district of Santa Teresa is one of the thirteen districts of the province of La Convencion, being known regionally and nationally for the production of fruit, coffee, coca leaves and many other products that grow abundantly in this place thanks to the mild and humid climate.
In 1998 this town was devastated by an immense landslide of stones, mud and trees from the Aobamba river that almost completely destroyed both the town center and the thermal baths, the town being later relocated 50 kilometers upriver.
Cocalmayo Hot Springs:
There is nothing better than taking a hot bath in nature, while enjoying a drink of "aguaymanto". Taking a bath in the Cocalmayo Hot Springs is a great experience. It is situated between a huge river and a small mountain. In Cocalmayo, bathers can enjoy outdoor pools fed by natural hot springs, built between a small mountain full of vegetation and the Urubamba river. You will find 3 pools of different sizes and depths. The water temperature varies between 38 and 44 ºC and unlike most hot springs in Peru, it has clear waters. Very close to the pools there are cold showers, the water comes from the Uripata lagoons and is very refreshing; the mixture of waters will give you a very comforting sensation.
How to get to Cocalmayo in Cusco?
There are various alternatives to get to Cocalmayo in Santa Teresa, which depend both on the budget of the traveler and their physical condition and willingness to go on walks.
Get to Cocalmayo Hot Springs by bus from Cusco
You have to take a bus at the 'Almudena' stop located in the district of Santiago in Cusco and after approximately 5 hours of travel by road you will reach the town of Santa María. From here you must take a bus or taxi to Santa Teresa, the trip takes about an hour along a dirt track to finally arrive at this picturesque little town. The heated pools are approximately 10 minutes by car from Santa Teresa or 1 hour walking (4 kilometers).
Get to Cocalmayo in Cusco from Aguas Calientes (Machu Picchu)
The medicinal baths of Cocalmayo in Santa Teresa, as we have already mentioned, are only 14 kilometers from the Inca citadel of Machu Picchu. There are two alternatives to reach Cocalmayo in Cusco from Aguas Calientes, the first is a walk of approximately 3 hours on the train tracks from the station known as 'Hidroeléctrica' to the town of Santa Teresa, in the middle of an exuberant tropical landscape, with abundant vegetation and a lot of heat, once here you have to walk another hour to finally reach the heated pools; the second alternative is to arrive by train to the station mentioned above, this section will take approximately 20 minutes. Once here you can continue walking or by car.
The cost varies depending on the type of transport chosen (bus, private taxi service, minivan) but usually getting to Santa Teresa from Cusco by land costs between S / .70 and S / .100, one way.
Trekking Routes to Cocalmayo Hot Springs:
Hotels in Cocalmayo in Perú
In the town of Santa Teresa you can find from cheap hostels, with prices around S / .50.00 to Lodges that offer more luxurious services whose prices can reach S / 200.00. It is important to mention that in Santa Teresa there are no 5-star hotels, but in Machu Picchu town you can find a wide variety of offers in relation to five-star hotels.
Entrance ticket for Cocalmayo in Perú
The cost of entry for foreign visitors is S /. 10 soles, while the cost for national visitors is S / 5. The hours of attention to the public are from 5:00 a.m. to 10:00 p.m.