Our trek to the Palcoyo rainbow mountain is a full day of adventures, let yourself be captivated by these impressive formations that are a new phenomenon of nature: the colorful mountains of Peru, the "Palcoyo Mountain".
As in the Vinicunca Rainbow Mountain in Cusco, this time we are surprised with the Palcoyo Colorful Mountain Range located in the district of Checacupe in the province of Canchis.
From the viewpoint of Palcoyo, you can observe the 3 mountains of colors in all their magnitude and solitary immensity, in the same place, we can visit the forest of stones, which as its name suggests, are rock peaks of the height of trees that look like a real geological labyrinth.
| | |
| --- | --- |
| Duration: 1 Day | Altitude: 4.900 m.a.s.l. |
| Difficulty: Easy | Season: All year |

Itinerary
A representative of our Travel and Tourism Agency will pick you up from the Hotel at 4:30 AM and then we will drive for two hours to the southern part of Cusco to the village of Checacupe, arriving at approximately 8 AM.
Arriving at Checacupe we will see the evolutionary construction process of three colonial bridges located in the same town of Checacupe: Inca Bridge, Colonial Bridge, and Republican Bridge. It is also possible to observe a colonial temple with sophisticated gilded works carved in wood and view the paintings of the Cusco School – Diego Quispe.
Once we finish the visit to this archaeological center we will leave the Cordillera Iris de Pallccoyo or Palcoyo Mountain, situated at 4900 masl.
When we arrive at this point we will begin a walk of approximately 40 minutes, in this place, we will appreciate a valley of glaciers formed by erosion and Permian formations of brilliant colors that stand out among the others and that is also inhabited by alpacas and llamas.
We can also observe some of the communities and farmers living in the lower areas of the rainbow mountain range of Pallccoyo, as well as the Ccacca Loma Stone Forest and the Red Mountain.
After having visited the Pallccoyo Rainbow Mountain Range, we will continue our tour to San Pedro to enjoy a delicious Buffet Lunch. After this beautiful journey, we will return to Cusco city arriving around 18:30 Hrs.
Important: The time of the excursions will be confirmed again at the destination.
Visit our selection of tours and activities. Create your own travel itinerary according to your stay availability, and book it online.
Included
TOUR INCLUDES
Transportation Cusco – Checacupe – Pallcoyo (Round trip).
A lunch.
Services with a professional bilingual guide (Spanish or English).
Entrance to the Palccoyo Rainbow Mountain.
First aid box.
TOUR DOES NOT INCLUDE
Services not detailed in the program.
Horses.
Drinks
Trekking Poles
Tips
Extra Money
Contact Us
info@dreamy.tours
reserve@dreamy.tours
More Information
The mountain of Palcoyo has approximately 9000 hectares of natural rock formations made out of sandstone layers. These layers hold big amounts of iron and other minerals which give the mountains the pigments and the diverse lines of colors.
Altitude of Palcoyo Mountain:
The maximum altitude of Palcoyo Mountain is 4,900 m.a.s.l.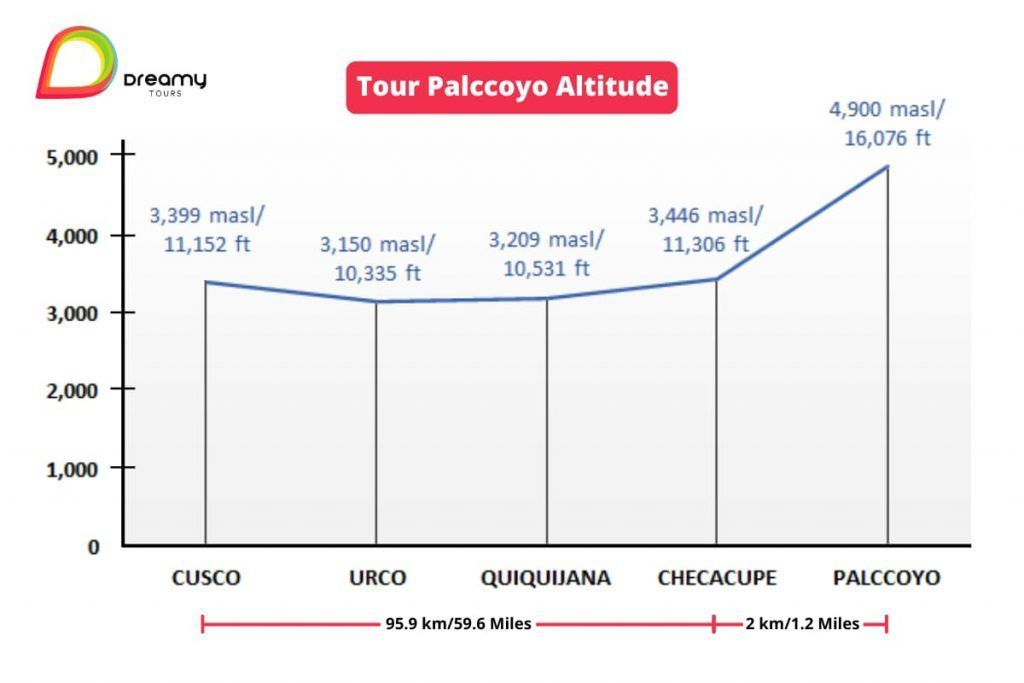 Weather in Palccoyo
There are only two seasons in Palccoyo throughout the year, which we will detail below:
The rainy season: From December to March, in this season Palccoyo in Perú is sometimes covered with dense fog, accompanied by snow and hail, although the weather in Palccoyo is also better on some days and you can enjoy the Palccoyo Mountain in Perú.
The dry season: from April to November, between these months it is mostly sunny so Palccoyo in Perú can be seen more clearly. If your intention is to visit Palccoyo, it is best to go in the dry season, if you are in Cusco in the rainy season and the weather is super good you can plan the visit to this mountai
Location
Palcoyo the colored mountain range or the rainbow mountain is formed by 3 mountains that are located in the mountain range of the Andes, precisely in the district of Checacupe of the province of Canchis in the department of Cusco at an altitude of 4900 masl., surrounded of nearly 9000 hectares of beautiful Andean landscape, which attraction radiates in similarity as the famous mountain of colors that is located at about 20 km of distance, well and identical of that one, this one has an ample composition of minerals that result in multiple colors that together resemble a rainbow whose background is a landscape of snowy mountain ranges to which it ones pertained, this impressive attraction is also a gift from global warming as it is now open for the viewer to see by unfreezing.
What is the difficulty of the hike to the Mountain of Palcoyo?
The difficulty level of the hike is moderate to easy, and this makes it interesting for people that don't like to walk a lot or don't have a sufficient fitness level for hiking.
When is the best time to get to know Palcoyo Mountain?
The best time to visit Palcoyo mountain is the dry season from April to November, as during this season the climate is pleasant and it helps for observing with more clarity the Palcoyo Mountain, thanks to the days being sunny.
Doing the route to Palcoyo Mountain is a good alternative if you are in the city of Cusco and you don't have much time.
What can you see on the route to Palcoyo Mountain?
During the hike with directions to Palcoyo Mountain, you can observe a variety of Flora and Fauna and an impressive stone forest formed by the effects of nature for thousands of years.
During the hike to Palcoyo, the mountain of seven colors, we will pass by the Stone Forest.
The Red River of Palcoyo
Close to Palcoyo Mountain there exists a small stream of water which during the season of rain rises its level and drags with itself the red earth of the terrain in which it is situated and with this, the river takes on the same color.
Stone Forest of Palcoyo
The forest of stones is located about 200 meters from the viewpoint, which are large rock peaks that make up a beautiful landscape that we recommend you explore, you will feel like you are in a geological labyrinth, the product of millions of years of formation. Ideal for lovers of adventure and nature.
Vinicunca vs Palccoyo Rainbow Mountain
If the demanding sections excite you and you are in good physical condition, then Vinicunca could be ideal for you, rewarding your effort with a privileged view of Ausangate.
For those who have gone up to Vinicunca, they will well know that trekking is carried out by numerous groups of travelers every day. The popularity of this mountain is so high that a thousand people visit it daily, putting even the integrity of the environment at risk.
As for access, you should know that vehicular access to Palccoyo in Perú is much more complicated than to Vinicunca.
VINICUNCA VS PALCCOYO: COMPARISON CHART
| | | |
| --- | --- | --- |
| | Palccoyo | Vinicunca |
| Duration of the walk: | From 1 to 1.5 hours (round trip) | From 4 to 5 hours (round trip) |
| Technical Difficulty: | Low | Medium |
| Physical difficulty: | Low | High |
| Maximum height: | 4,900 masl approx. | 5,000 masl approx. |
| Best time to do the route: | From April to November | From April to November |
| Weather: | High, with low temperatures | High, with low temperatures |
In short, analyzing the tour to Vinicunca vs Palccoyo Rainbow Mountain, if you want a demanding hike full of impressive landscapes, Vinicunca could be a great personal challenge. If what you want is a short, relaxed hike through mountains of colors, then Palcoyo is the option.
Can Children and elderly people go?
A hike in the mountains of Palcoyo is ideal for everyone, as the distance of the hike is shorter compared to the similar 7-color mountain – Vinicunca, and in fact less demanding.
What colors does the Palcoyo mountain consist of?
Fuchsia pink Mixture of red clay, osfango and reana.
Off-white Quartz sand and limestone.
Purple or lavender Mixture of clay and calcium carbonate and silicates.
Red Argillites and clay.
Green Clays rich in ferro magnesian, (mixture of iron and magnesium and copper oxide).
Brownish yellowish, mustard, golden Sulphuriferous calcareous sandstones combined with sulphur.
Recommendations for visiting Palcoyo
Being located at 4,900 meters, the risk of altitude sickness is always present, but as the hike is not steep and takes a maximum of one hour, most travelers (regardless of age) will have no problems.
The recommendation is always to spend at least two days in Cusco before traveling to Palcoyo to acclimatize the body.
Visit our selection of tours and activities. Create your own travel itinerary according to your availability and book it online.
Price
HOW MUCH DOES IT COST?
We have price alternatives that accommodate all budgets, prices per person, expressed in US Dollars.
Make your quotes and reservations by email info@dreamy.tours, you can also communicate with one of our sales executives at the telephones detailed below, we will be happy to assist you.
Phone – WhatsApp: +51 969 787 221
Phone – WhatsApp: +51 986 994 218
HOW TO BOOK THE SOUTH VALLEY CUSCO TOUR?
To start the reservation process, please send us the following information:
Name and surname:
Passport number:
Nationality:
Date of Birth:
Phone:
Very important – We need the address and information about the hotel that you are staying at, in the city of Cusco, to be able to pick you up at the time when the tour starts
To confirm reservations it is required to pay 50% in advance and the other 50% can be paid upon arrival at your destination.
PAYMENT METHODS
IZIPAY
PAYPAL
WESTER UNION
MONEYGRAM
TRANSFER TO OUR BANK ACCOUNT PERU
GENERAL CONDITIONS
All rates for our Peru Packages are expressed in US dollars (subject to currency exchange rates) and are priced per person
The rates for Peruvians only include VAT
All our rates are subject to availability and circumstances
Children under 2 years and 11 months are considered INF (babies) and are not permitted on this tour
Children from 3 to 10 years and 11 months are considered DCC (child) and thus eligible for special rates and obliged to share the room with their parents
Children over 11 years old are considered adults
Minors must travel with an identity document
Rates do not apply to holidays, Easter, long weekends, national holidays, Christmas, or New Year
Mapa